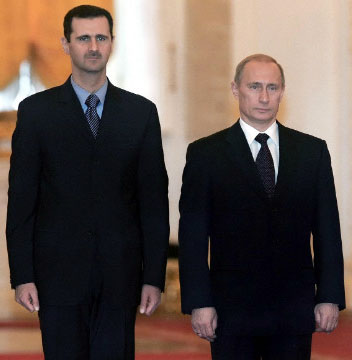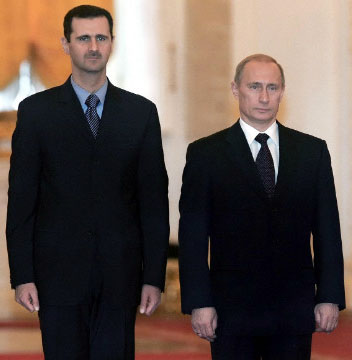 Russian President Vladimir Putin on Thursday held his first telephone talks with Syrian President Bashar al-Assad in two years, applauding Damascus for its willingness to attend a peace conference and destroy its chemical weapons, the Kremlin said.Putin and Assad (archive)
Putin positively assessed the readiness of the Syrian government to send a delegation to planned peace talks in Geneva and "expressed satisfaction" with Damascus's cooperation in the destruction of its chemical weapons arsenal, the Kremlin said in a statement.
It said that in the conversation "the hope was expressed that the main opposition groups will show a constructive approach and take part" in the Geneva conference.
Putin's spokesman Dmitry Peskov later added that this was the first time the two leaders had spoken since crisis started in March 2011.
"There were no conversations in the past two years — and by that I mean the wartime period," Russian news agencies quoted Peskov as saying.
Peskov explained that the Russian side had initiated the call because "right now we are entering a very crucial moment."
The telephone conversation came as the Syrian government daily Al-Watan on Thursday claimed that the Geneva talks would be held on December 12.
The Syrian government has expressed a readiness to take part but Russia has repeatedly lambasted the lack of enthusiasm from the opposition.
The Kremlin statement said that during the call, "Assad thanked the Russian leadership for its help and support of the Syrian people".
Both leaders expressed "mutual interest in further developing bilateral relations".