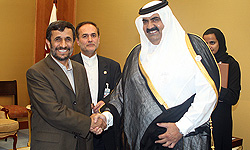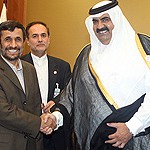 Qatari Emir Sheikh Hamad bin Khalifa al-Thani is scheduled to pay a daylong visit to Tehran Thursday morning.
Sheikh Hamad, who will head a high-ranking delegation in the trip to Tehran, will meet with President Ahmadinejad and other senior officials of the Islamic Republic of Iran.
During his stay in Tehran, the Qatari Emir is slated to discuss expansion of bilateral relations and exchange views on regional and international issues in meetings with Iranian officials.
Tehran and Doha enjoy close economic, social, cultural and political ties.
Iran and Qatar have made pledges over the past few years to further develop their economic relations, most specifically their oil and gas cooperation both within and outside of OPEC.
Iran and Qatar are both members of the Organization of Petroleum Exporting Countries (OPEC), and together with Russia hold more than 50 percent of global natural gas reserves.
Iranian Foreign Minister Manouchehr Mottaki visited Doha on Saturday to discuss preparatory measures for the Qatari Emir's visit to Tehran.
During his trip to Doha, Mottaki met with Qatari Prime Minister Sheikh Hamad Bin Jassem Bin Jaber al-Thani in Doha and explored avenues for the further promotion of the level of cooperation between the two countries.
The two sides also agreed on holding joint economic commission meetings in coming months