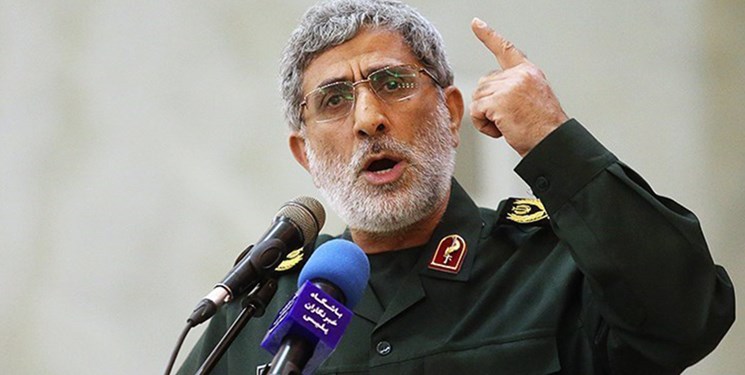 Islamic Revolution Guards Corps Quds Force Commander Brigadier General Esmayeel Qaani blasted the crimes of the US in West Asia, and said that the US and Israel's bones will be crushed and its sound will be heard later.
"When I tell them (US and Israel) that we will break their bones, you will hear the sound later," Qaani said in a ceremony in Mashhad in commemoration of martyrs of the Iraqi imposed war in 1980s.
He added, "Palestine, which has undergone great changes today, has learned [lessons] from our martyrs."
"The ruthless and corrupt Arab countries, led by Saudi regime and the Global Arrogance (US), have attacked the innocent people of Yemen," the commander noted, stressing that in the 6th year of the invasion, the Yemeni people are defending their country against the aggressors.
"Despite the problems that the enemies are creating for the Islamic Revolution, our establishment is moving forward every day and the US and Israel that are ranting and raving are not the same Israel and America on the first day," he added.
"Today, Israel has built 6-meter high walls around itself that will collapse," Qaani stressed.
In relevant remarks on Monday, IRGC Commander Major General Hossein Salami said that the enemies have bowed down before the Iranian nation and have been defeated, adding that people's constant presence on the scene has always forced the enemies to escape.
"The enemies have bowed down to the grandeur of this nation and been defeated," Salami said in Sanandaj city of Kurdistan province on Monday, adding, "Iranian people have always been in the scene while the enemies escape the scene."
"In Iran, it is the people who are the rulers and have formed the most exceptional ruling system in history," he said, adding, "The rulers are the servants of people."