Palestine
Rabid Dog israel continues to impose restrictions on Aqsa Mosque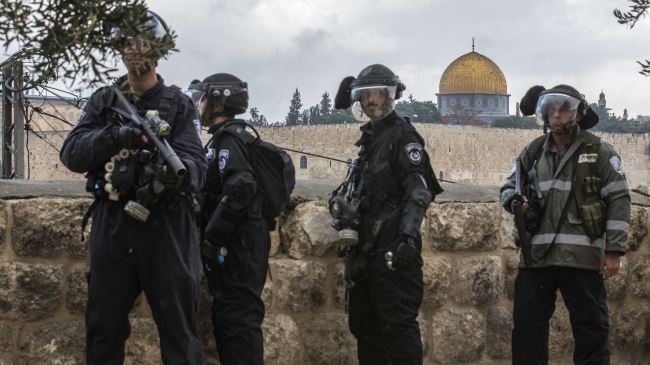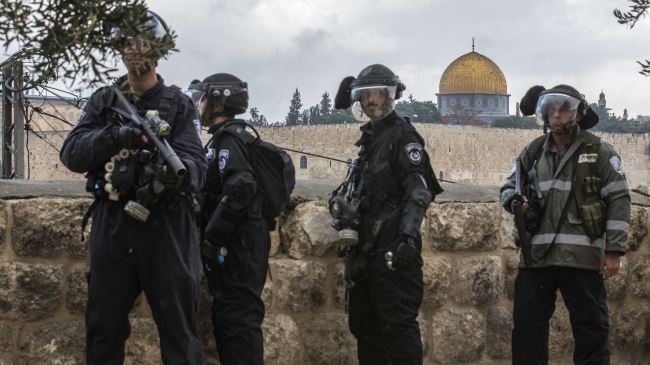 Terrorist israeli forces reportedly continue to impose restrictions on Palestinian worshippers visiting the al-Aqsa Mosque in East al-Quds (Jerusalem).
According to reports, Israeli troops have closed many of the entry gates to prohibit men under 40 from entering the compound amid escalating tensions in al-Quds.
Meanwhile, a number of Israeli Knesset members recently visited the holy site, provoking further anger among Palestinians.
The mosque, widely revered by Muslims, has been the scene of clashes between Palestinians and Israeli settlers and troops in recent weeks.
Tel Aviv has arrested over 100 people in the city over the past two weeks after the latest round of protests erupted in the occupied Palestinian territories over restrictions against the access of Muslim worshipers to the al-Aqsa Mosque.
Palestinian President Mahmoud Abbas has denounced the Israeli move as "a declaration of war."
The Hamas leader in the Gaza Strip, Ismail Haniyeh, has also pledged to fight the Tel Aviv regime over the recent closure of al-Aqsa to Palestinian worshippers.
Haniyeh, who took part in a mass protest in Gaza on the Day of Rage on Friday, said the resistance movement would not allow the Israeli regime to do as it likes on the compound, adding, "The Israeli enemy is entering a very dangerous phase in carrying out its tasks towards the sacred mosque."
Palestinians say Tel Aviv is planning to change the status quo and Judaize al-Quds.
The al-Aqsa Mosque compound, located in the Israeli-occupied Old City of al-Quds, is a flashpoint holy Islamic site. The location of the compound, known to Jews as the Temple Mount, is the holiest site in Judaism. The mosque is Islam's third holiest after Masjid al-Haram in Mecca and Masjid al-Nabawi in Medina, Saudi Arabia.