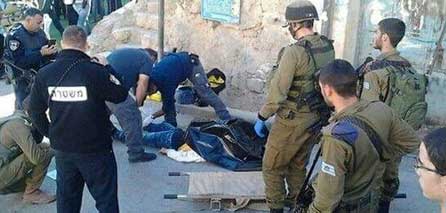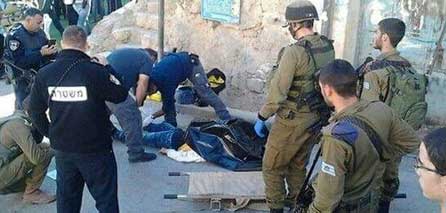 An Israeli soldier wounded, on Saturday morning, in an anti-occupation stabbing attack carried out by a Palestinian youth near the Ibrahimi Mosque in Al Khalil south of the occupied West Bank, while the Palestinian was killed.
Israeli channel two reported that the wounded soldier, 20 years, was transferred to "Hadassah Ein Karem" Hospital in the occupied Jerusalem.
The channel added that the soldier was slightly injured after being stabbed in the head, near "Abu Rish" checkpoint in Al Khalil, while the army shot and killed the Palestinian attacker.
Palestinian Ministry of Health announced that it had been informed with the martyrdom of a young man, he has not been identified yet, by the Israeli occupation near the Ibrahimi Mosque in Al Khalil.
The death of the young man come less than 24 after the martyrdom of the Palestinian Mahmoud Mohammed Abu Fannouneh, 21 years, from Al Khalil, who had been killed by the occupation soldiers at "Etzion" checkpoint, on Friday night.