Palestine
Rabid Dog israeli Soldiers Attack Children and Internationals in Bil'in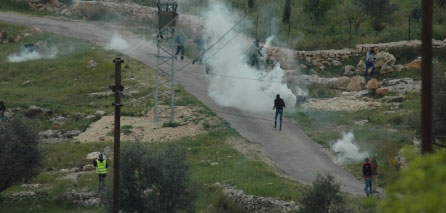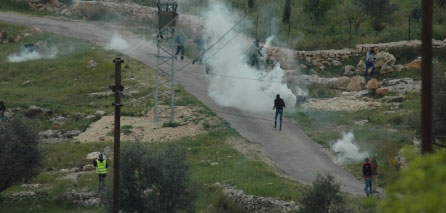 Israeli soldiers attacked, Friday, the weekly nonviolent protest against the Wall and Settlements in Bil'in village, near the Central West Bank city of Ramallah.
The protest in Bil'in took saw a large contingent of international participants.
Aside from the local residents of Bil'in, including dozens of children, approximately 50 people from America, Japan, Hong Kong, France and elsewhere took part.
There was also a group of young Israelis, some of which were taking part in the protest for the first time. When asked why they had come they said "We need to see what is being done here. We need to see for ourselves"
As usual, the peaceful demonstrators gathered at the top of the hill about 500 meters from the wall, which cuts them off from 50% of their land upon which has been built a sprawling illegal Israeli settlement.
The demonstration was peaceful on the Palestinian side. with young children, some as young as 8 or 9, marching towards the wall to protest the land grab. However, within a minute, the Israeli army appeared and started firing gas grenades at the people.
Soldiers carrying automatic rifles and backed up by armored vehicles advanced firing several volleys of gas grenades at children and adults alike.
Many people suffered from the effects of inhaling the gas, including those from the Israeli contingent.
As dozens of volleys of gas grenades were fired, some coming very close to hitting people, most of the protesters were forced back. A few steadfastly remained, donning gas masks and standing in clouds of gas as the soldiers advanced further into Bil'in.
On the land which Israeli occupation has not stolen, the villagers have tried their best to normalize their lives. They have planted olive trees, which are often uprooted or set alight by soldiers.
They have built a children's playground and play center. Unfortunately, this too has been intentionally damaged by Israeli soldiers.
The children's center is currently unusable after it was attacked by Israeli soldiers about 8 months ago.
An Israeli protester was asked afterwards what he thought of the response by the Israeli army during the peaceful protest, to which he replied in genuine shock "I can't believe this is happening. Why? Why do they do this?"