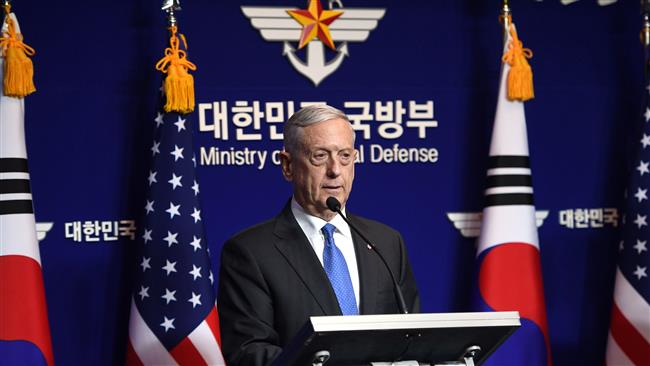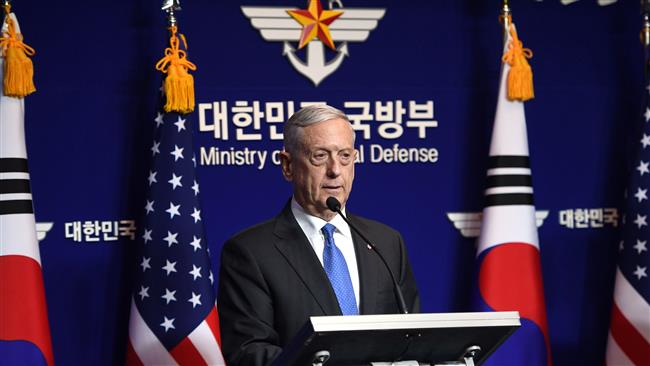 US war minister James Mattis has said the United States would never accept a nuclear North Korea, warning of a "massive military response" to any threat against Washington or its allies.
"Make no mistake — any attack on the United States or our allies will be defeated," the Pentagon chief said Saturday at a press conference in the South Korean capital, Seoul. "Any use of nuclear weapons by the North will be met with a massive military response, effective and overwhelming."
Tensions have been building on the Korean Peninsula following a series of nuclear and missile tests by Pyongyang as well as threats of war and personal insults traded between US President Donald Trump and North Korean leader Kim Jong-un.
Mattis stressed that diplomacy was still America's "preferred course of action" to resolve the standoff, but added, "Our diplomats are most effective when backed by credible military force."
North Korea, which carried out its sixth nuclear test last month, says it wants a nuclear-tipped missile capable of reaching the United States. The country says it will continue to develop the programs as a deterrent against the US and its regional allies, including South Korea and Japan.
The CIA has estimated that Pyongyang could be only months away from developing the ability to strike the United States with nuclear weapons.
Mattis visited the Demilitarized Zone (DMZ) that separates the two Koreas on Friday and was briefed on the posture of North Korean artillery.
Some Trump's advisers say US military options are limited at best, saying Pyongyang could launch an artillery barrage on Seoul, which is only about 50 kilometers from the border.