North America
Syria
Rabid zionist barks again: Trump considering military action against Syria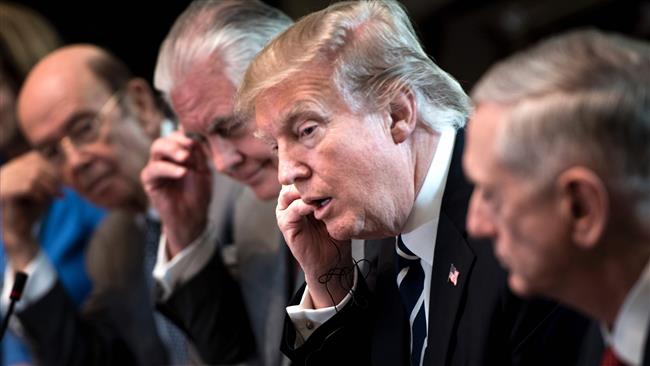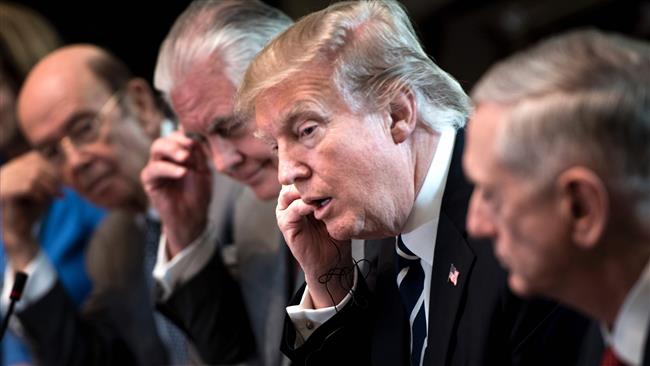 US President Donald Trump has told some lawmakers in Congress that he is considering military action against Syria in retaliation for this week's suspected chemical attack.
A source familiar with situation told CNN that Trump had not firmly decided on military action but said he was discussing possible actions with US Defense Secretary James Mattis and relying on his judgment.
US officials tell CNN the Defense Department has several options to strike Syria's chemical weapons capability and has presented those options to the Trump administration.
On Tuesday, a suspected chemical attack targeted the town of Khan Shaykhun in Syria's northwestern Idlib Province. It was followed by alleged air raids that struck a hospital where victims of the assault were being treated.
The so-called Syrian Observatory for Human Rights put the death toll at 86, including 30 children and 20 women.
Speaking on Wednesday at a joint press conference with Jordan's King Abdullah II in the White House, Trump called the attack a "heinous" act that had changed his views on Syrian President Bashar al-Assad.
"Yesterday's chemical attack, a chemical attack that was so horrific in Syria against innocent people, including women, small children and even beautiful little babies, their deaths were an affront to humanity," Trump said.
"These heinous actions by the Assad regime cannot be tolerated. The United States stands with our allies across the globe to condemn this horrific attack and all other horrific attacks, for that matter."
Western countries have pointed the finger at Damascus over the attack while Syria's opposition has accused the Syrian government of bombing Khan Shaykhun with chemical munitions.
Syria's Foreign Minister Walid al-Muallem said Thursday that terrorist groups continue stockpiling chemical weapons in the country's urban and residential areas.
Muallem assured that Damascus did not and would not use chemical arms, even against terror outfits.
The top Syrian diplomat also noted that the Syrian military had carried out an airstrike on a depot, where terrorists stored chemical weapons.
Since March 2011, Syria has been gripped by militancy it blames on some Western states and their regional allies. Russia has been assisting the Syrian army in its counter-terrorism operations.