Palestine
Human Rights
Middle East
Rabid zionist forces raid Palestinian cells in Megiddo prison, vandalize their property
A Palestinian commission for prisoners says Israeli special forces have raided the cells of Palestinian inmates at a detention facility in the occupied West Bank, vandalizing their belongings as Tel Aviv presses ahead with its torture, mistreatment and repressive measures against prisoners.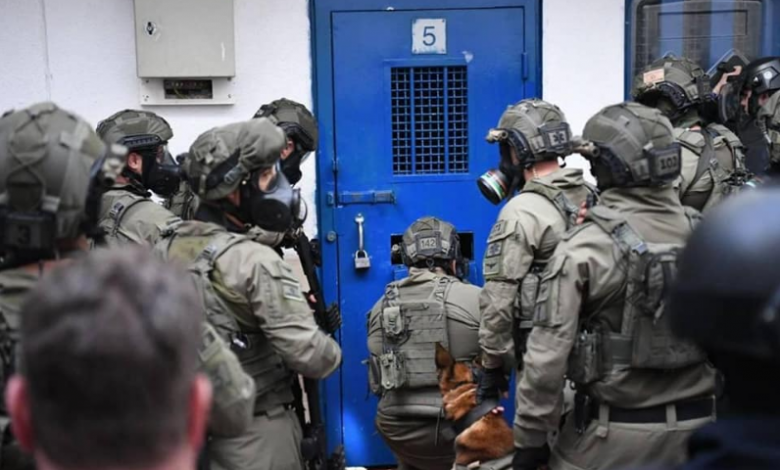 Hasan Abed Rabbo, a spokesman for the Palestinian Commission of Detainees' and Ex-Detainees' Affairs said Israeli forces attacked Section 8 in Megiddo Prison, near the city of Umm al-Fahm, on Sunday morning, while Palestinian prisoners were inside their cells and destroyed their belongings, Palestine's official Wafa news agency reported.   
Israel has ramped up repressive measures against Palestinian prisoners following a daring escape by six inmates from a high-security Israeli prison five months ago, with Israeli forces raiding several detention centers.
On September 6, six prisoners, five of whom belonged to the Islamic Jihad, Hamas' fellow Gaza-based resistance group, escaped the Gilbao Prison in the northern part of the occupied territories through an underground tunnel.
Despite conducting a thorough search for days, the Israeli police service kept failing to find any clues about their whereabouts. However, the six inmates were re-arrested a few days later.
The jailbreak came as a huge embarrassment to the regime in Tel Aviv and exposed fault lines in its much-hyped security and intelligence apparatus.
Over 4,500 Palestinian political prisoners in Israeli prisons faced a repressive campaign by the Tel Aviv regime in the wake of the jailbreak.
The Palestinian resistance groups and several political factions have warned Israel against causing harm and endangering the lives of prisoners.
Palestinian prisoners have been subjected to systematic torture, harassment and repression all through the years of Israel's occupation of the Palestinian territories. Prison authorities also keep Palestinian inmates under deplorable conditions lacking proper hygienic standards.
Human rights organizations say Israel violates all the rights and freedoms granted to prisoners by the Fourth Geneva Convention.
There are reportedly more than 7,000 Palestinians held at Israeli jails. Hundreds of the inmates have been apparently incarcerated under the practice of administrative detention.
Palestinian detainees have continuously resorted to open-ended hunger strikes in an attempt to express their outrage at their detention.