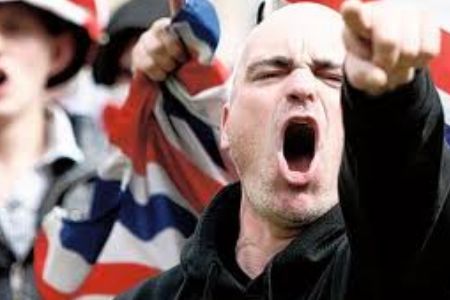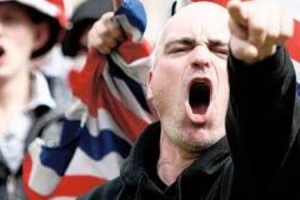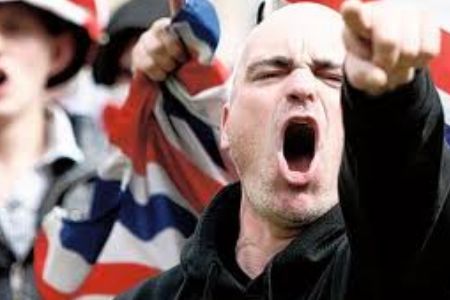 British unions are warning of far-right English Defense League members' violence against anti-cut campaigners and Muslims fueling speculations that the government is using the EDL as a pressure group.
Unite, Unison and the Trades Union Congress (TUC) said they are seriously concerned about EDL splinter groups' plans to wage violence against the anti-cuts campaigners including the Occupy London Stock Exchange camp outside St Paul's Cathedral and the participants in the nationwide strikes on November 30.
Trade unionists said the racist group has already launched several attacks on anti-racist and anti-cuts activists and has attempted to target the Occupy LSX protestors.
"There is a concern, a general wariness, that the EDL are very active. There have been attacks on trade unionists. We need to put our heads together and think about how we deal with it," Midlands regional secretary for the TUC Rob Johnston said.
This comes as EDL supporters tried to target Unite's northwest headquarters last week while they did attack Occupy Newcastle camp that injured several protestors including one who was sent to hospital.
The racist groups' members have been using online messages to inform their fellow thugs that they are "patrolling for leftys" while John "Snowy" Shaw, the leader of one of the group's factions named Infidels, has specifically pinpointed anti-cut campaigners as potential targets of violence.
"We have decided to put all our efforts into opposing everything you do regardless of the issue at hand…. Every event you hold will be a potential target along with your meetings, fund raisers and social events," "Snowy" Shaw said in a statement.
EDL have recently targeted a rally by female asylum seekers in Merseyside, posted death threats on Facebook to St Paul's protestors, and attacked anti-racist meetings in Brighton and Leeds while they also came down on a Labour party event in London earlier in May.
Against such a backdrop of vicious campaigning, the government has failed to outlaw the group, limit its activities, give EDL offenders adequate legal punishment, or take any specific measure to prevent the repetition of widely criticized violent rallies and attacks of EDL members.
Back in August and under government pressure, judges gave four years in prison to two men for inciting riots on Facebook while a student was given 12 months in jail for throwing two placard sticks at the police during March 26 strikes and a boy was sentenced to six months behind the bars for stealing a bottle of water.
However, judges have made it their duty to protect EDL thugs releasing one of them with a £200 fine after a "racist attack" on a mosque.
Meanwhile, officials have been sending warning after warning to anti-cuts protestors to keep away from trouble yet, when it comes to EDL, they warn the potential targets of the group.
The Metropolitan police contacted 450 students involved in last year's anti-tuition-cuts protests earlier this month to tell them officers "will at the earliest opportunity arrest and place you before the court" in case of any "criminal or anti-social behavior."
Their rally was also met with police kettling with mounted officers keeping patrol as the force also threatened to use rubber bullets against demonstrators.
However, police warned TUC regional secretary of Yorkshire Bill Adams to watch his words to avoid EDL attacks.
Adams said the police told him to "watch what I say about the EDL, they have some info that they have my details."
This comes as the EDL priorities against anti-cuts campaigners is curiously in line with the government's policies on the subject while no action is taken to prosecute EDL thugs over their colorful threats to members of the public, not even against those who post death threats.
That raises serious speculations that EDL could serve as a government apparatus to secretly face demonstrators on the rights officials could not legally prevent them from claiming.