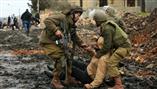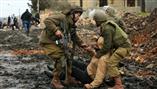 Terrorist Israeli military forces have severely beaten and injured a Palestinian man before taking him into custody in the occupied West Bank.
Israeli military vehicles rolled into the Palestinian Jalazoun refugee camp, located 7 kilometers (4.3 miles) north of Ramallah, and attacked a protest in the area on Friday.
The soldiers stopped several Palestinian cars and used them as shields while firing at the Palestinian protesters. Israeli troopers also fired rubber-coated metal bullets at several cars.
Israeli forces then fired tear gas canisters to disperse the crowd.
Shadi al-Ghabbashy, one of the protesters, tried to stop the soldiers after members of his family suffered from excessive tear gas inhalation.
Scuffles consequently broke out, with Israeli troopers violently and repeatedly kicking Ghabbashy and striking him on the head with their rifle butts for around 10 minutes.
The Israeli soldiers then took him to their base in Bet El illegal settlement.
Israeli forces have on occasions raided Palestinians' houses in the West Bank in the past recent months, and have taken away dozens of Palestinians. The detainees are transferred to Israeli prisons, where they are interrogated for weeks without being charged.
There have been numerous reports documenting the worsening health condition of several Palestinian prisoners held inside Israeli jails.