Iraq
Middle East
Rawah victory marks military collapse of Daesh in Iraq, says interior minister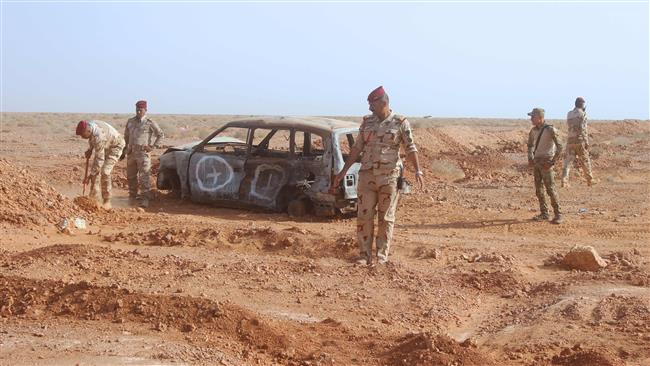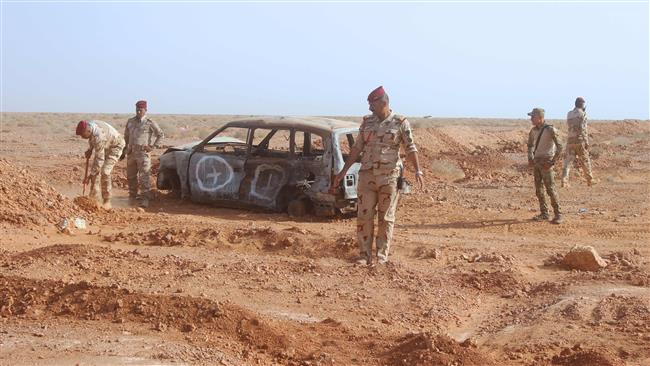 Iraqi Interior Minister Qasim al-Araji says the recapture of the last redoubt of Daesh Takfiri terrorists in the country's western province of al-Anbar by army soldiers and pro-government fighters from Popular Mobilization Units marks the end of the military threat posed by the extremists in the country.
"We congratulate the religious authority and the Iraqi nation on the liberation of the town of Rawah," he said in a brief statement received by Arabic-language al-Sumaria television network reported on Friday.
Earlier in the day, the commander of the al-Jazira and Upper Euphrates liberation operation, Lieutenant General Abdul Amir Rashid Yarallah, said army troops and pro-government fighters – better known by the Arabic name Hashd al-Sha'abi – had completely retaken Rawah, located about 300 kilometers northwest of the capital Baghdad, and hoisted the national Iraqi flag over a number of buildings there.
Meanwhile, Iraqi Prime Minister Haider al-Abadi has praised Iraqi forces for the liberation of Rawah in record time, stressing that they are now clearing al-Jazrira region as well as Anbar of the last remnants of Daesh terrorist group besides securing border areas with Syria.
"Liberation of Rawah in a matter of few hours shows the power and capability of our armed forces as well as the success of military plans already drawn," he pointed out.
Late last month, the Iraqi prime minister formally ordered the launch of operations to purge Daesh terrorists from the towns of Rawah and al-Qa'im.
Abadi visited the newly-liberated town of Qa'im and the nearby Husaybah border crossing in far western Iraq on November 5, and raised the Iraqi flag at the border crossing.
On October 5, Abadi said Iraqi armed forces had liberated Hawijah, driving Daesh Takfiris out of their last bastion in the oil-rich northern province of Kirkuk.
The Iraqi prime minister said on August 31 that the northwestern city of Tal Afar, located 200 kilometers northwest of Kirkuk, and the entire Nineveh province had been purged of Daesh Takfiri terrorist group.
The recapture of Tal Afar was made possible with the help of the Iraqi army, Federal Police, Counter-Terrorism Service (CTS) units, fighters from Popular Mobilization units – commonly known by their Arabic name, Hashd al-Sha'abi – and the Interior Ministry's elite rapid response forces, the Iraqi prime minister stated.
On July 10, Abadi formally declared victory over Daesh extremists in Mosul, which served as the terrorists' main urban stronghold in the conflict-ridden Arab country.
In the run-up to Mosul's liberation, Iraqi army soldiers and volunteer fighters from the Popular Mobilization Units, commonly known by their Arabic name, Hashd al-Sha'abi, had made sweeping gains against Daesh.
The Iraqi forces took control of eastern Mosul in January after 100 days of fighting, and launched the battle in the west on February 19.