Palestine
Rbaid Dogs of zionist regime shoot, injure Palestinian youths in Gaza, West Bank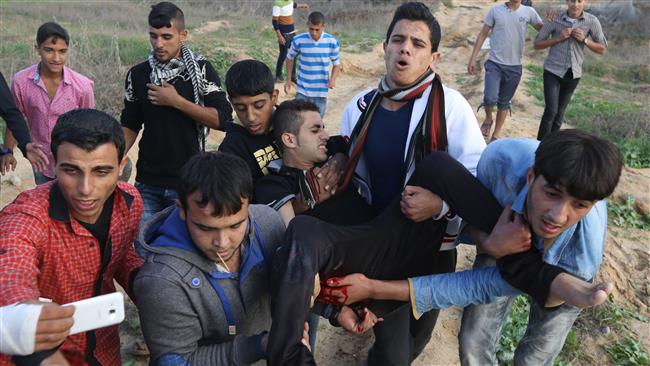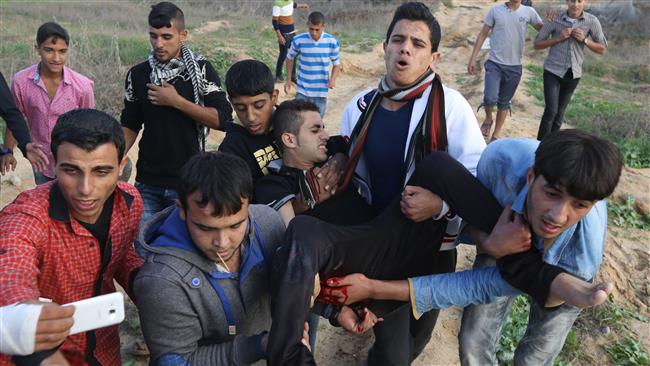 Israeli military forces have reportedly shot and wounded two young Palestinian men in the blockaded Gaza Strip near the border with the occupied Palestinian territories, as well as the central West Bank.
Palestinian sources, speaking on condition of anonymity, said Israeli forces opened fire on tens of unnamed Palestinian youths and boys as the latter approached the Karni Crossing on the Israel-Gaza barrier on Friday afternoon, Arabic-language Safa news agency reported.
A young Palestinian man sustained gunshot wounds in the leg, before a Palestinian ambulance transported him to al-Shifa Hospital in North Rimal neighborhood of Gaza City.
Separately, another Palestinian youth was injured when Israeli military forces clashed with a group of Palestinian protesters in the town of Kafr Malik, located about 17 kilometers (19 miles) northeast of Ramallah.
The developments came only a few hours after Israeli military forces had shot and injured two young men during clashes in the same Palestinian town.
The two Palestinian youths were hit in the leg with live bullets, and the severity of their injuries was reported as moderate after being taken to hospital for treatment.
Israeli soldiers sought to carry out detention raids in the area later on, but were met by stone-throwing Palestinian youths. The Israeli soldiers were forced to withdraw from Kafr Malik without any arrests made.
Israel release Palestinian legislator Khalida Jarrar
Also on Friday, Israeli authorities released Palestinian lawmaker Khalida Jarrar after holding her behind bars for 14 months.
Jarrar, an executive committee member of the Palestine Liberation Organization (PLO) and a leading member of the Popular Front for the Liberation of Palestine (PFLP), was detained on April 2, 2015, from her home in Ramallah and initially sentenced to six months of administrative detention.
Last December, an Israeli military court sentenced Jarrar to 15 months in prison, a fine of 10,000 Israeli shekels ($2,582), and an additional suspended sentence of 12 months within a five-year period.
Jarrar, who was elected to the Palestinian Legislative Council (PLC) in 2006, is one of the most outspoken critics of the Israeli occupation and has repeatedly slammed the Tel Aviv regime's atrocities against Palestinians.
Israeli authorities issued a deportation order for the Palestinian lawmaker in August 2014, but she refused to obey the order, setting up a protest tent outside the PLC building in Ramallah until the controversial order was overturned later in September.
The Israeli regime has been denying the lawmaker the right to travel outside the occupied Palestinian territories since 1988. She campaigned for months in 2010 before receiving the permission to travel to Jordan for medical treatment.