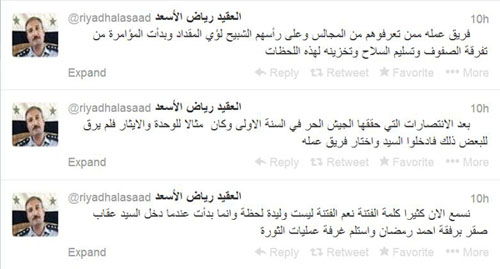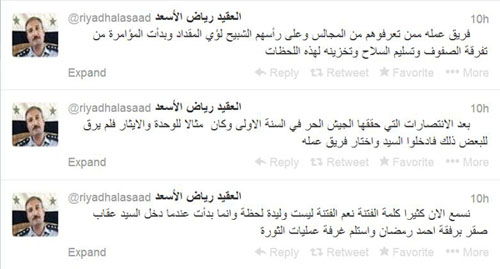 Day after another the reality of al-Mustaqbal party MP Oqab Saqr's "charitable" acts in Syria are revealed.
The Lebanese MP claimed he was providing the displaced people of Syria with blankets and milk. However, it has been proven that Saad Hariri's representative was a commander in the so-called Free Syrian Army, the foreign-backed armed opposition.
This time, the real role of Saqr was announced by the FSA commander, Riad al-Asaad, who said that the Lebanese MP was the chief operating room of the foreign-backed opposition fighting the SyRiad al-Asaadrian government.
On his twitter account, al-Asaad lashed out at Saqr, saying: the "sedition" started within the ranks of the FSA since al-Mustaqbal bloc member was appointed as a chief operating room for the FSA.
Al-Asaad also blasted the "yob" Louay al-Mikdad, who is the FSA spokesman, saying he was working with Saqr.
Al-Asaad remarks refute al-Mustaqbal party claims it has no role in the Syrian conflict. The party doesn't only deny involvement in the current crisis in Syria. It also slams Hezbollah for taking part in the fight, as it condemns any "interference" in other countries' internal issues.
For its part, Hezbollah Secretary General, Sayyed Hasan Nasrallah has announced repeatedly that the party members are defending the resistance against the conspiracy targeting it starting from Syria.