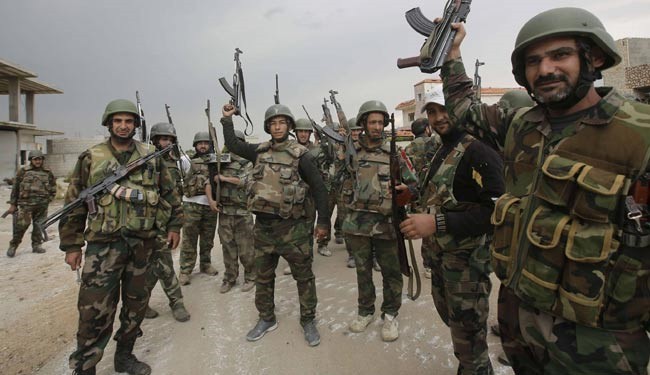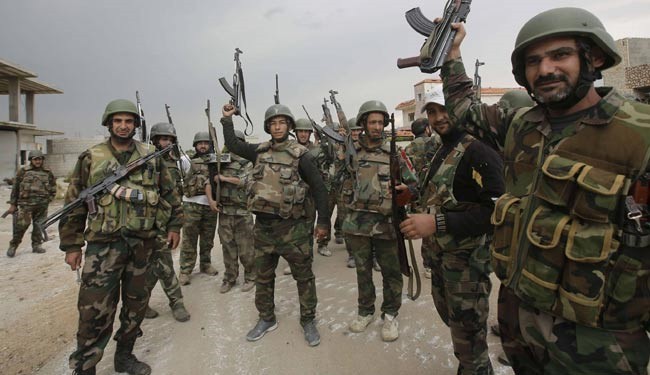 Fighting is reported to have been intensified around Syrian capital where the army is trying to push out militants from the eastern Ghouta.
Al Alam correspondent in Syria reported on Monday that the army, supported by volunteer local fighters, has been able to push out militants from Deir al-Suleiman and Qasemiye, located around Ghouta.
Fierce clashed have also been underway in Deir al-Asafir since yesterday, he said.
Following a deadly chemical attack in the militant-held Ghouta in August which left many people killed the army forces started a major operation by surrounding the whole area with imposing a strict siege.
According to Al Alam reporter, people are free to come and go in the area if they are unarmed.
A fierce offensive by militants on Syrian army soldiers has killed at least 160 of them.
The intense fighting in the eastern Ghouta area began Friday when several militant groups attacked army forces, according to the British-based so-called Syrian Observatory for Human Rights and an activist based in Qalamoun.
Syrian state media mentioned the fighting and said troops inflicted heavy losses among the terrorists.
According to media reports, militants from Saudi Arabia have formed an armed group with nearly 3,000 forces in Ghouta, who have been holding the area under their control for almost two years.
Most of the fighting happening between army and Saudi-backed militants is happening in the east side of Gouta which is a green agricultural belt surrounding the city of Damascus in the south and east.
Gouta is has been one of the main strongholds for militants almost throughout the whole war in Syria which started as pro-reform protests in March 2011.