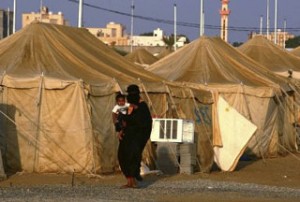 The Red Cross says humanitarian conditions in Yemen are at their worst after five months of fighting between Saudi forces and the Houthi fighters.
The Swiss-based International Committee of the Red Cross (ICRC) said Monday that the war in northern Yemen has dramatically worsened the fate of civilians in the area.
In a statement ahead of an international conference on Yemen in London this week, the body's deputy director of operations said ICRC workers are struggling to reach Yemenis in need of help.
The Red Cross also re-issued a warning that Yemen is facing a humanitarian crisis that will hamper its long-term development.
Hundreds of civilians have been killed and nearly 200,000 have been displaced in the ongoing war in northern Yemen.
A predominantly Shia region, Sa'ada Province in northern Yemen borders the southwestern Saudi Arabian provinces of Asir, Jizan and Najiran. The area has been the target of Yemeni government and Saudi airstrikes and bombardments.
Houthi fighters charge that Saudi Arabia has provided the Yemeni army with military equipment and encouraged the government to destroy Houthi positions in the north.
They also accused Riyadh of targeting civilian areas far from the Saudi-Yemeni border.
Saudi Arabia joined the war in November 2009 — three months after the Yemeni government intensified the fight against the Houthis.
Sana'a accuses the Shia fighters of breaching terms of a ceasefire agreement by taking foreign visitors hostage in 2009 — a charge the Houthis deny.