Iran
Middle East
Regional countries capable of defending own interests, no need for foreign presence: Iran top commander
Chairman of the Chiefs of Staff of the Iranian Armed Forces Major General Mohammad Baqeri says there is no need to the presence of foreign troops in the region as regional countries are totally capable of establishing security and defending their own interests.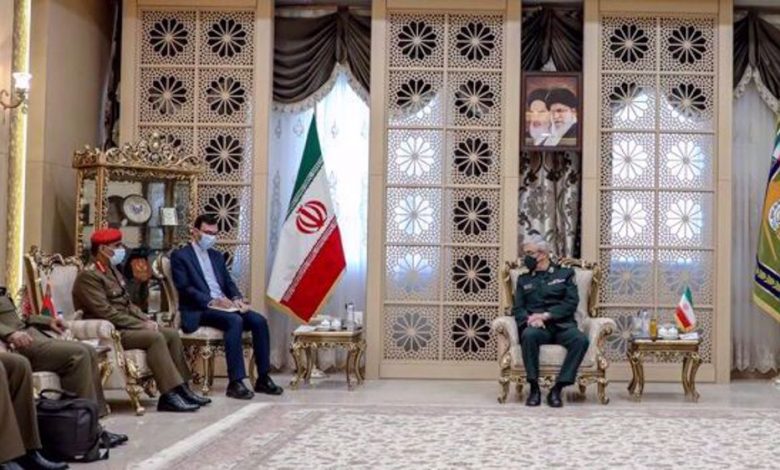 Iran's top general made the remarks in a Monday meeting with Brigadier Abdulaziz Abdullah al- Mantheri, Assistant to Oman's Chief of Staff for Operations and Planning, in Tehran, during which the Iranian side said all-out development of ties with Muscat is Tehran's unwavering policy.
Baqeri noted that Oman has always played a positive role in all regional developments and in boosting regional contacts and interactions, adding, "There is good coordination between Iran and Oman in the field of marine security … the issue of Yemen and other regional developments."
Explaining on the destructive role of foreign presence in the region, Iran's top military commander said, "We believe that regional countries are totally capable of establishing security and defending their interests, and presence of foreign forces in the region only foments insecurity."
Americans and Europeans, General Baqeri said, believe that they can prolong their presence in the region by pitting regional countries against each other and hatching plots, adding that in doing so, they seek to spread Iranophobia and allege that Iran is posing threats to others to serve their own interests.
"They [Americans and Europeans only] sow discord and sell weapons [to regional countries], and in fact, they do not help regional security [in any way]. If these [foreign forces] are set aside, we would be able to establish security in the region through cooperation and interaction with neighbors," Iran's top general added.
It is surprising that some Arab countries in the south of the Persian Gulf have established relations with the Israeli regime, the senior Iranian commander said, explaining, "The Zionist regime's enmity toward the Muslim world and regional nations is known to all and the establishment of such ties … will definitely lead to a troubled future for the region."
Former Israeli prime minister Benjamin Netanyahu signed normalization agreements with Emirati Foreign Minister Sheikh Abdullah bin Zayed Al Nahyan and Bahrain's Foreign Minister Abdullatif bin Rashid Al Zayani during an official ceremony hosted by ex-US president Donald Trump at the White House on September 15 last year.
Morocco and Sudan later signed the so-called Abraham Accords as well.
Baqeri further reaffirmed Iran's détente policy in the region and said, "We have had meetings with Emirati and Saudi officials on regional issues, and misunderstandings have been dispelled to some extent. We have also good relations with Qatar and Kuwait."
Following the inauguration of the new administration, he said, Iran is fully ready to expand relations with its neighbors and clear any misunderstandings.
The top commander also expressed hope that Muslim states would promote cordial relations and do not allow foreign powers to take advantage of their previous differences.