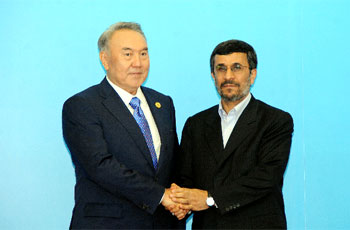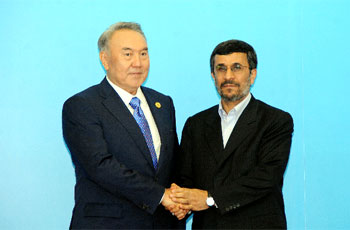 President Mahmoud Ahmadinejad has reiterated the importance of enhancing unity among regional countries, saying it will stabilize peace and tranquility.
"Regional countries and nations enjoy great historical and cultural commonalties which can together meet their demands and strengthen peace and stability in the region," said President Ahmadinejad in a meeting with his Kazakh counterpart Nursultan Nazarbayev in Astana, Kazakhstan, on Tuesday.
He hailed growing relations between Tehran and Astana and stated: "Close and broad interaction and cooperation between Iran and Kazakhstan on regional and international issues will play an effective role in serving the interests of the two countries and regional nations."
The Kazakh President, for his part, urged regional countries to reinforce unity in order to achieve peace, progress and security.
Nazarbayev said Astana seeks to promote extensive cooperation with Tehran.