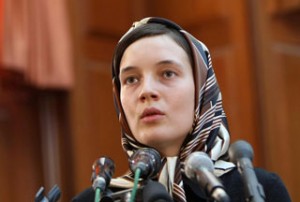 The father of a Frenchwoman detained in Iran over post-election unrest says he received e-mails from his daughter containing information on street protests.
French lecturer Clotilde Reiss, who used to teach at Isfahan University of Technology, was put on trial on August 8, along with some others arrested after the election.
In a court address, Reiss, who turned 24 while in custody, said that she had written to the French embassy and about 50 friends or members of her family about Iran's nuclear program as well as the country's post-election developments.
"My father works for the French Atomic Energy Commission. I did an internship there and for that I wrote a report on Iran's policy on nuclear energy," she said, according to an ISNA report.
She also said that she regretted taking part in the 'illegal protests' and asked 'the Iranian nation and the court to pardon her'.
In a recent interview with France-2 television channel, her father, however, said that she had only sent him an e-mail, not a formal 'report.' He said that the French Embassy was copied in on the e-mail.
"[It] was about what she was living through, but in the sense of 'rest assured … I am doing fine,'" Remi Reiss said, adding that he had 'hope' that she would be freed soon.
According to reports posted on French press, officials working in so called 'sensitive positions' must keep intelligence authorities informed if they or their family members make contact with or visit certain countries such as Iran, Libya, or Iraq.
Meanwhile, Paris has urged Iran to free Reiss and Nazak Afshar, a French Embassy staff member who is also being prosecuted in a televised mass trial.
On August 10, the French president's office said that Nicolas Sarkozy, who is on vacation in southern France, was trying to secure Reiss's release.
The French Foreign Ministry has described the release of Reiss and Afshar as its 'very first priority'.
The president is following Reiss' case 'extremely attentively' and is 'multiplying his contacts among all those' who could help secure her release, said one of Sarkozy's aides, without releasing any specific names or details.