Iraq
Report: Iraqi Forces Fully Ready to Block ISIL's Penetration into Iraq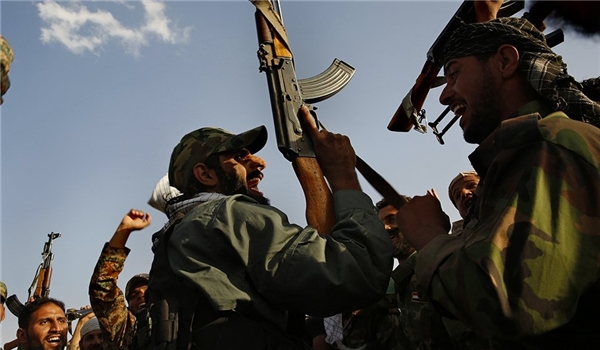 The Iraqi forces have reinforced their military positions near the border with Syria and they are completely ready to prevent the ISIL terrorists from penetrating into their country.
"A large number of security and Hashd al-Sha'abi forces have been dispatched to the Western part of Iraq's Al-Anbar province during the past week," the Arabic-language al-Masdar news website reported.
It noted that the dispatch of forces to borders with Syria is in line with blocking the possible escape of the ISIL remnants from the remaining regions under their occupation in Eastern Deir Ezzur to Iraq.
Meantime, Hashd al-Sha'abi Commander in Al-Anbar Province Qatari al-Abidi announced that the Iraqi security forces are now in a state of alert amid battle with the terrorists in Baqouz region.
A Syrian Army source was quoted by Al-Masdar as saying last week that the ISIL terrorists have been increasing their presence along Iraq-Syria border.
In a relevant development last Thursday, senior Iraqi legislator disclosed that the US forces played a role in the last Wednesday's ISIL raid on a convoy of Hashd al-Shaabi in Northern Iraq which killed and wounded several popular forces.
Karim al-Aliwi, a representative of al-Bina coalition at the Iraqi parliament, was quoted by the Arabic-language al-Ma'aloumeh as saying that the US forces provide the ISIL with intelligence about Hashd al-Shaabi and Iraqi security forces' moves, noting that they want to induce the necessity for their deployment under the pretext of fighting against the ISIL.
The Arabic-language service of Sputnik quoted the Iraqi intelligence and security bodies as reporting that during the terrorist attack against Hashd al-Shaabi on Makhmour road in Mosul, 6 Hashd al-Shaabi forces were killed and 31 others were wounded.
Another senior Iraqi lawmaker had also disclosed last month that the US army troops and warplanes were preventing Hashd al-Shaabi from getting close to the country's borders with Syria.
"The US troops stationed along Iraq-Syria borders have blocked the access of Hashd al-Shaabi forces from nearing that region through air and ground cover," Member of the Iraqi Parliament's Security Committee Ali Jabbar was quoted by al-Maloumeh as saying.
He underlined that the US considered Hashd al-Shaabi as a big threat to its plots in Iraq, and said that the US army troops were exerting pressure on the Iraqi government to prevent Hashd al-Shaabi from getting close to the border with Syria or to prevent them from targeting the ISIL movements in the Baghouz region.
This comes as a security force had earlier revealed that the US army troops backed by the US helicopters have used al-Ramaneh region along Iraq-Syria borders in Western al-Anbar to conduct reconnaissance operations.