Iraq
North America
Resistance groups will stand up against anyone seeking to justify foreign forces' overstay in Iraq: Official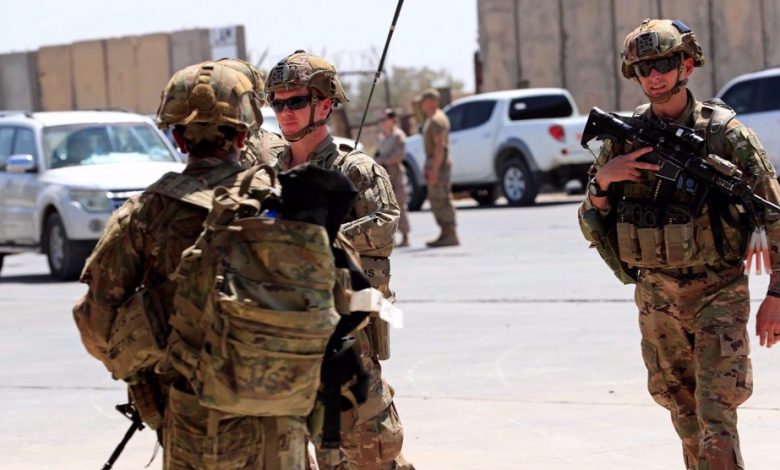 The spokesman for the political bureau of Asa'ib Ahl al-Haq, which is part of the Popular Mobilization Units (PMU) or Hashd al-Sha'abi, has lambasted a prolonged presence of US-led forces in Iraq, stating that resistance fighters will confront all those seeking to justify an overstay.
Mahmoud al-Rubaie told the Arabic-language al-Maalomah news agency that weapons at the hands of Iraqi resistance fighters are the main guarantor and executive assurance for the implementation of the Iraqi nation's demand and the parliamentary bill on withdrawal of foreign troops.
"All military forces affiliated with American occupiers must, therefore, leave Iraq," he said.
"Any individual or faction that seeks to justify the continued presence of foreign forces will face an armed struggle staged by resistance combatants. The national Iraqi will and resistance groups will eventually drive foreign troops out of Iraq," Rubaie stressed.
Qassim al-Araji, Iraq's national security adviser, said on Thursday that a final round of technical talks to formally end the US-led combat mission, which was purportedly formed to fight the Daesh terrorist group, had concluded.
"We are officially announcing the end of the coalition forces' combat mission," al-Araji wrote on Twitter, adding that the coalition would continue providing assistance, advice and training to Iraqi forces.
However, chief Pentagon spokesman John Kirby said that the number of US troops in Iraq won't change.
"Remember, this is a change in mission, right? Not necessarily a change in physical posture," he said. "It's not like today they snap the chalk line and all of a sudden there's a massive change in the daily operations of our men and women over there."
"There won't be a dramatic shift from yesterday to tomorrow, based on how we've already been working ourselves into this new mission," Kirby said.
There are about 2,500 US soldiers and another 1,000 coalition troopers currently based in Iraq. It is unclear how many will remain in the next phase of deployment in Iraq.
Roadside bomb targets US convoy
A roadside bomb attack targeted a convoy carrying logistical equipment belonging for the US military in Iraq's southern province of al-Qadisiyyah on Sunday.
Sabereen News, a Telegram news channel associated with the Iraqi Popular Mobilization Units, said the explosion took place as the vehicles were driving along a highway near the provincial capital city of al-Diwaniyah.
The little-known Qasem al-Jabbarin group later claimed responsibility for the attack.
In early 2003, the US invaded Iraq under the later debunked pretext that the regime of Saddam Hussein possessed weapons of mass destruction.
It withdrew soldiers from Iraq between 2007 and 2011, but redeployed them in 2014 along with other partners to allegedly counter the threat of Daesh.
Iraq managed to end the territorial rule of the Takfiri terrorist group in the country thanks to the sacrifices of the national army and Hashd al-Sha'abi, which had the backing of neighboring Iran.
On January 3, 2020, the US assassinated Iran's anti-terror commander General Qassem Soleimani and his Iraqi trenchmate Abu Mahdi al-Muhandis, deputy head of Hashd al-Sha'abi, two influential figures in the fight against Daesh.
Two days later, the Iraqi parliament unanimously approved a bill, demanding the expulsion of all foreign military forces led by the United States from the Arab country.
Since then, however, Washington has been dragging its feet on the troop pullout and targeting anti-terror groups from time to time.