Middle East
North America
Saudi Arabia
Retired senior military general arrives in Riyadh as new US ambassador to Saudi Arabia
Retired general John Abizaid, who led US Central Command during the Iraq war, has arrived in Riyadh as the new American ambassador to Saudi Arabia.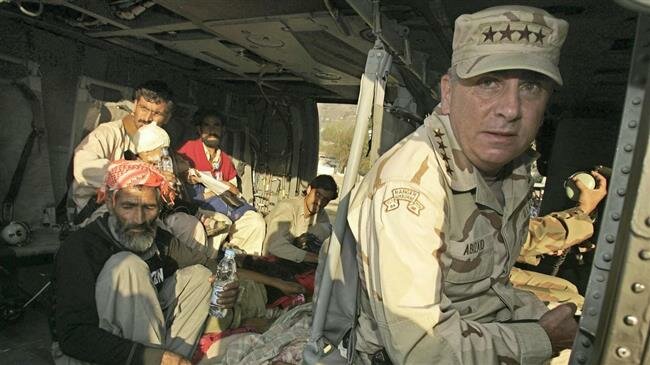 The retired general arrived in the Saudi capital on Thursday, according to an embassy statement.
"Saudi Arabia and the United States work together every day to protect the security of our two countries, promote prosperity and economic development, and build the people-to-people ties that keep our relationship strong," the statement quoted Abizaid as saying.
Washington has not had any ambassador in Riyadh for more than two years since United States President Donald Trump took office.
Last year, US President Donald Trump nominated the retired general for the position and earlier this month, Abizaid's nomination was approved by Senate.
As a highly decorated army officer, the retired general took over many important consulting positions after retiring from the US military, including on the president's Intelligence Advisory Board.
Abizaid is currently a member of the Council on Foreign Relations and the International Institute for Strategic Studies.
In 2016, the he was appointed by the US secretary of defense as a senior adviser to the Ukrainian defense minister as Kiev faced an ongoing conflict with pro-Russian rebels in eastern Ukraine.
The appointment of the senior military official and adviser, specifically a former US Central Command chief, to lead the US mission in Saudi Arabia comes as the kingdom is mired in a four-year-long war against Yemen.
It reflects Washington's focus on reaping the windfall of Saudi Arabia's military engagements in the region and the kingdom's bellicose policies under its young heir to the throne, Mohammed bin Salman.
US Senate lets Trump maintain veto on Yemen warThe US Senate failed on Thursday to overturn President Donald Trump's veto of legislation that would have ended US military assistance for the Saudi-led war in Yemen.
Trump has, however, strongly defended Washington's ties with the kingdom.
Asked to explain his decision to ignore Saudi's conduct in prominent journalist Jamal Khashoggi's murder, Trump said last year that he didn't want to lose "a million jobs" as well as a mega deal that was "really $450 billion if you include other than military."
Trump made similar statements earlier this week.
Before his presidency, Trump described Saudi Arabia as "a milk cow" which would be slaughtered when its milk ran out.
Last September, Trump said he had told King Salman that Riyadh has "trillions of dollars" and could pay its military bills.
"I love Saudi Arabia. They are great, King Salman, I spoke with him this morning. I said, king, you have got trillions of dollars. Without us, who knows what's going to happen. …. With us they are totally safe. But we don't get what we should be getting," he said.
Trump further threatened to end what he claimed to be subsidies for the Saudi military, calling for the oil-rich kingdom to pay up for US "protection" of the country.