IIT Exclusive News
Imam Ali Khamenei
Iran
Leaders of Ummah
North America
Qasem Suleimani
Revenge for US assassination of General Soleimani certain: Leader of the Islamic Ummah and Oppressed Imam Sayyed Ali Khamenei
The official website of Leader of the Islamic Ummah Ayatollah Seyyed Ali Khamenei has posted a photo-montage of former US President Donald Trump playing golf under the shadow of a drone, vowing to avenge the assassination of Iran's Lieutenant General Qassem Soleimani.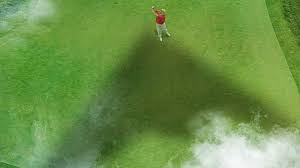 The image, which was posted on the Khamenei.ir website on Friday, carried the text of remarks by Ayatollah Khamenei in December on the occasion of the first martyrdom anniversary of General Soleimani, in which he said "Revenge is certain."
"The assassin of Soleimani and the one who ordered the murder should be punished," the text read.
"As a esteemed person said, Soleimani's shoe is worth more than the assassin's head and even decapitation of the assassin will not compensate for Soleimani's shoe; but they did the wrong thing," it added.
"They should be punished. The one who ordered and the assassin should know that they should be punished at any time possible."
General Soleimani was assassinated along with his Iraqi trenchmate Abu Mahdi al-Muhandis, the deputy head of the Popular Mobilization Units, and their companions in a US terror drone strike authorized by Trump near Baghdad International Airport on January 3, 2020.
The two figures were highly popular because of the key role they played in eliminating the US-sponsored Daesh terrorist group in the region.
On December 16, Ayatollah Khamenei said revenge for Iran's senior commander is certain and will be exacted at the right time.
During a meeting, which was also presented by members of General Soleimani's family, the Leader stated that a tougher slap will still await the arrogant powers by defeating them in the software sector through the efforts of revolutionary youth and faithful elite, and by expelling the United States from the region through the joint efforts of countries that are part of the resistance front.
The daughter of Soleimani said on Wednesday that Trump ordered the assassination of her father to portray himself as "a hero," but he left office "defeated, isolated and broken."
Zeinab Soleimnai made the remarks in a post on her Twitter account after Trump departed the White House at the end of his tumultuous four-year term and Joe Biden took office as the 46th president of the United States.
"Mr. Trump, you murdered my father, the General who led the victorious war against ISIS/Al-Qaeda, with the perverse hope that you will be seen as some sort of hero," she said, referring to her father's influential role in the battle of Iraqi and Syrian nations against the world's most notorious Takfiri terror groups, Daesh and al-Qaeda.