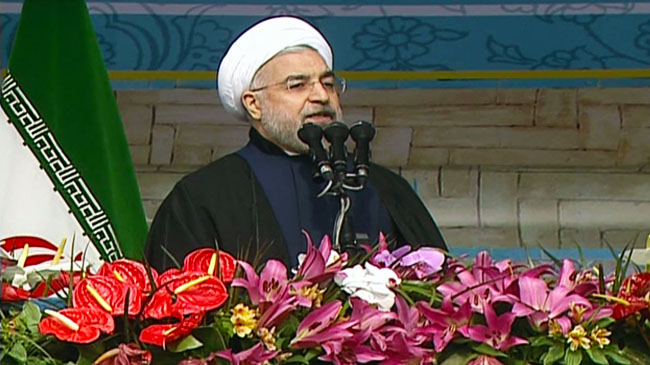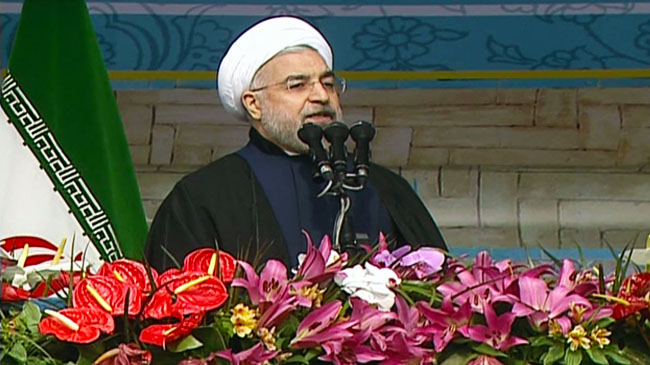 Iranian President Hassan Rouhani says the rhetoric of threat against the Iranian nation is "worthless and childish."
Addressing a massive gathering of people celebrating the victory of the 1979 Islamic Revolution in Tehran on Tuesday, Rouhani said, "On behalf of the nation of Iran, I declare with a clear voice that threatening the nation of Iran is worthless and childish since our nation has, over the past 35 years, resisted against various threats from the enemy and achieved victory."
"I say to the P5+1 countries that nuclear negotiations are a historic test for Europe and the United States. Should they proceed within the framework of law, the rights of the nation of Iran, common interests, mutual respect, interaction, and cooperation in the nuclear negotiations, they will receive a positive and proper response from Iran," President Rouhani said.
"But, if they seek to repeat the improper and wrongful manners of the past, they should know that they have taken steps to the detriment of their own nation, the region, global welfare and stability…," the Iranian president added.
On Tuesday, millions of people participated in nationwide demonstrations in the country to mark the Islamic Revolution's victory, which put an end to the monarchical rule of the US-backed Pahlavi regime.
By attending the rallies, the demonstrators reaffirmed their allegiance to the ideals of the Islamic Revolution and Ayatollah Ruhollah Khomeini, the late founder of the Islamic Republic.
Also attending the rallies was Iran's Foreign Minister Mohammad Javad Zarif, who told Press TV, "There may be quarters in various parts of the world that have difficulties with the Iranian nation, but these (Iranians) are peace-loving people… they present no threat, but they want to determine their own destiny."
"If people are not used to Iranians' determining their destiny, if people are not used to nations' standing up for their rights, then they'd better get used to it, because I think this huge participation and presence of the Iranian people cannot be put down through rhetoric and pressure," Zarif added.
In response to a question about the impact of the millions-strong presence of the people on the streets in support of the Islamic Revolution on the nuclear talks, the Iranian foreign minister said, "It encourages us to continue to insist on the rights of these people and, at the same time, to try to remove all obstacles to constructive interaction with the rest of the world."