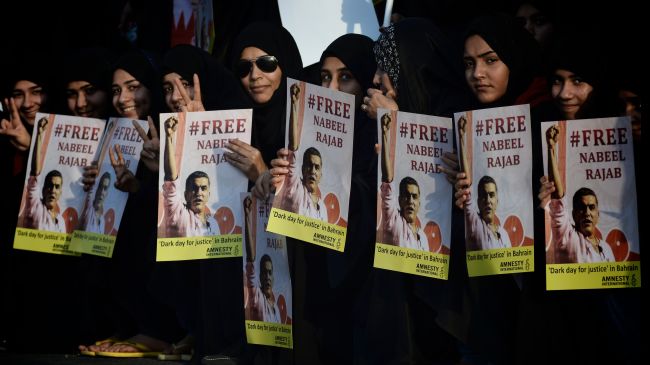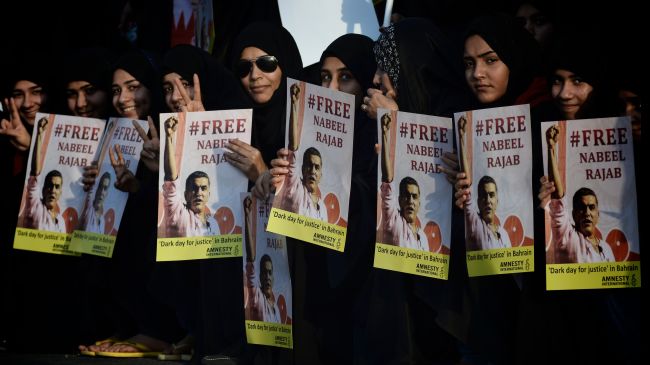 Human rights groups have called on the Manama regime to nullify the "politically motivated" conviction of prominent jailed rights activist Nabeel Rajab.
"The criminal court verdict cites no evidence, not even an allegation, that Nabeel Rajab participated in or advocated violent protests," said Joe Stork, Human Rights Watch's deputy Middle East and North Africa director, on Sunday.
On October 5, the Bahraini activist, who is serving a three-year term for taking part in rallies against the Al Khalifa regime, launched a "full hunger strike" in protest against being mistreated by prison officials.
Rajab, the president of the Bahrain Center for Human Rights, is scheduled to appear in court on Tuesday to appeal his verdict.
Stork also described Rajab's conviction as a "politically motivated punishment."
Washington-based Human Rights First also condemned the charges against Rajab as "politically motivated and a direct violation of his freedom of expression."
"Just last month, the Bahraini government agreed to respect these freedoms and to abide by the recommendations of the United Nations Human Rights Council's Universal Periodic Review," Human Rights First's Brian Dooley said. "The kingdom has already abandoned that promise, as it did every promise of reform made before it."
The Observatory for the Protection of Human Rights Defenders also criticized the Bahraini officials for judicial harassment and arbitrary detention of Rajab, calling it "evidence of the continued criminalization of human rights defenders' activities."
Other rights groups, including Amnesty International, have also called for Rajab's immediate release, saying that he has been jailed only for peacefully exercising his right to freedom of expression.
Bahrain's revolution started in mid-February 2011, when demonstrators, inspired by the revolutions of Tunisia and Egypt, started holding massive anti-regime protests.
Dozens of people have been killed in the regime crackdown and the security forces have arrested hundreds, including doctors and nurses accused of treating injured revolutionaries.
A report published by the Bahrain Independent Commission of Inquiry in November 2011 found that the Al Khalifa regime had used 'excessive force' in the campaign of suppression and accused Manama of torturing political activists, politicians, and protesters.