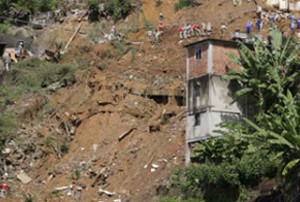 Brazilian authorities say the death toll from the massive landslides that hit Rio de Janeiro has reached 256.
Rescue workers recovered scores of bodies after part of a hillside collapsed just outside the city on Wednesday.
Local fire department officials estimate that as many as 400 people may have been killed following two days of heavy rain earlier in the week and the subsequent landslides that engulfed shanty towns surrounding Brazil's second largest city.
Torrential rains caused repeated floods and landslides in the hillside slums, forcing some 5,000 people out of their homes.
Rio police have been authorized to evacuate locals from their residences in areas at risk of collapse.
Weather reports predict further rainfalls in the coming days.