Turkey
Riot police, protesters clash in Turkey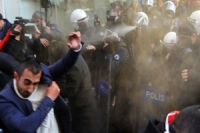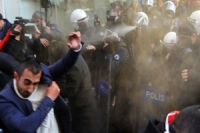 Clashes have broken out between the protesters and riot police in Turkey following the death of a teenager wounded during mass anti-government protests last year.
On Tuesday, protesters threw stones at police vehicles in Istanbul after 15-year-old Berkin Elvan, who had slipped into a coma after being hit in the head by a police tear gas canister during last summer's demonstrations, died at the city's Okmeydani Hospital.
Demonstrations in relation to the boy's death also took place in the capital, Ankara, where police fired tear gas and used water cannon to disperse thousands of protesters.
Students also staged a sit-down protest in the Aegean port city of Izmir.
Berkin was on his way to buy bread when he was caught up in a street protest. His family blames Prime Minister Recep Tayyip Erdogan for their son's death.
"It's not God who took my son away but Prime Minister Erdogan," the boy's mother Gulsum Elvan, speaking to reporters outside the hospital, said through tears.
Berkin's death raised the number of fatalities from last summer's anti-government protests in Turkey to at least eight, including a police officer.
On May 31, 2013, Turkish police broke up a sit-in held at Istanbul's Taksim Square against a proposal to demolish Gezi Park.
The violence turned into nationwide demonstrations against the ruling Justice and Development Party and Erdogan, with police using water cannons, tear gas and rubber bullets against the demonstrators.
The protests saw an estimated 2.5 million people take to the streets across Turkey over three weeks to demand Erdogan's resignation. More than 8,000 people were injured in the demonstrations, according to medics.