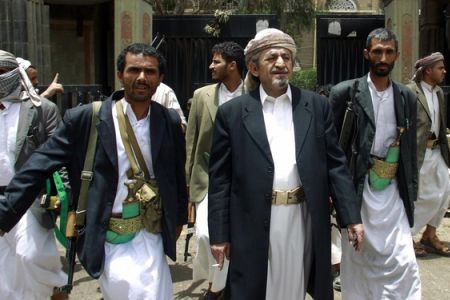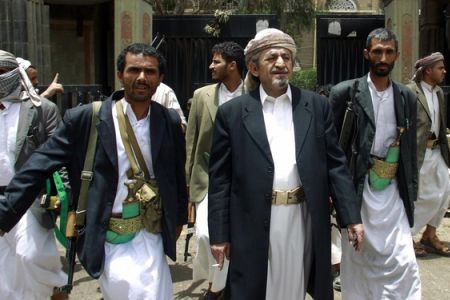 Yemeni security forces and members of the powerful Hashid tribe have agreed to a ceasefire after days of fierce clashes in the capital killed more than 100 people.
The ceasefire was declared on Friday, the fifth day of heavy streets battles in Sana'a between forces loyal to Yemeni President Ali Abdullah Saleh and tribesmen demanding his immediate ouster.
"We are now in mediation and there has been a ceasefire between the two sides … But if Ali Abdullah Saleh returned (to fighting) then we are ready," Reuters quoted Sadeq al-Ahmar, head of the Hashid tribal federation, as saying.
Sana'a residents say shots and explosions are still heard but the fighting is not as intense as it was in previous days.
The agreement came shortly after tribesmen seized a Republican Guards checkpoint outside the capital.
Tribal sources say at least 15 tribesmen and tens of troops, including the base commander, were killed in the fighting which saw Yemeni air force planes attacking tribesmen.
Tribal leader Sheik Ali Safi said his forces stormed the camp to prevent government forces from sending reinforcement to the capital, where forces loyal to the Yemeni president and tribesmen opposing his rule were fighting a fierce battle since Monday.
More than 100 people have been killed and many others were wounded during five days of heavy clashes in Sana'a.
The battle also forced hundreds of Yemenis to flee their homes in the capital, seeking refuge elsewhere.
Meanwhile, thousands of anti-government protesters poured into the streets in major Yemeni cities on the "Friday of Peaceful Revolution," demanding Saleh's departure.
The isolated Yemeni president, who has been in power for almost 33 years, has repeatedly refused to sign a power transition deal that would see him resign in return for immunity from prosecution.