Afghanistan
Roadside Blast Kills 9, Injures 22 in Afghanistan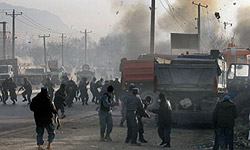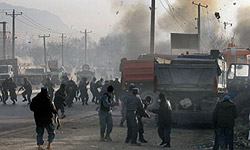 At least nine people were killed and 22 others wounded when a passenger bus struck a roadside bomb on Kabul-Kandahar highway in central Maidan Wardak province, officials said on Monday.
The blast took place in the Salar area of Syedabad district at 9:00 a.m., Governor's Spokesman Attaullah Khogyani told Pajhwok Afghan News.
District Chief Dr. Muslim said that security personnel have arrived at the scene to rescue the survivors.
He said a woman was among nine people killed and three children were also among 22 others wounded.
He added that 15 injured persons are in critical condition.