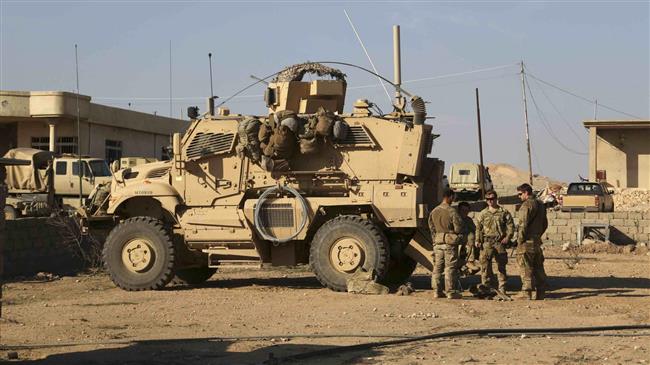 Three roadside bombs have exploded separately near convoys of trucks carrying logistical equipment belonging to the US-led coalition forces in Iraq's western province of Anbar, southern province of Muthanna bordering Saudi Arabia and Kuwait, as well as the central province of Babil.
The Arabic-language al-Sumaria television network, citing an unnamed police source, reported that the first attack took place when a roadside bomb went off as a convoy of vehicles was traveling along the international highway leading to Anbar province on Thursday.
The blast wounded a woman who happened to be crossing the road at the moment of the incident.
Sabereen News, a news channel associated with Iraqi anti-terror Popular Mobilization Units, later reported that another explosion had occurred near the southern city of Samawah when a roadside bomb went off near a convoy of trucks carrying equipment belonging to the US-led coalition forces.
There were no immediate reports of casualties and damage.
Hours later, another explosion took place when a convoy of vehicles belonging to the US-led coalition forces was moving close to Hillah city, located 100 kilometers (62 miles) south of the capital Baghdad.
No groups or individuals have claimed responsibility for the attacks yet.
The latest roadside bomb attacks are the latest in a series of explosions and rocket attacks that have targeted US occupation forces over the past few months.
On March 3, a barrage of rockets struck the Ain al-Assad air base hosting American forces in the western Iraqi province of Anbar.
The Security Media Cell, affiliated with the Iraqi prime minister's office, announced in a statement at the time that 10 Grad rockets had struck the base, located about 160 kilometers (100 miles) west of Baghdad.
The statement added that security forces had found the launch pad for the projectiles.
There has been a spike in attacks on US military bases and diplomatic missions amid anti-US sentiment over the assassination of top Iranian anti-terror commander, Lieutenant General Qassem Soleimani, and his companions in Baghdad early last year.
General Soleimani, the commander of the Quds Force of Iran's Islamic Revolution Guards Corps (IRGC), and his Iraqi trenchmate Abu Mahdi al-Muhandis, the deputy head of the Popular Mobilization Units, were targeted along with their companions on January 3, 2020 in a drone strike authorized by former US President Donald Trump near Baghdad International Airport.
Iraqi lawmakers approved a bill two days later, demanding the withdrawal of all foreign military forces led by the United States from the country.
On January 8, 2020, the IRGC launched a missile attack on the US-run Ain al-Assad air base in retaliation. Washington put a lid on the true number of casualties as well as the extent of material damage caused to the base, which was reported to be immense.
According to the Pentagon, more than 100 American forces suffered "traumatic brain injuries" during the counterstrike on the base.
Iran has described the missile attack on Ain al-Assad air base as a "first slap" in its "harsh revenge."