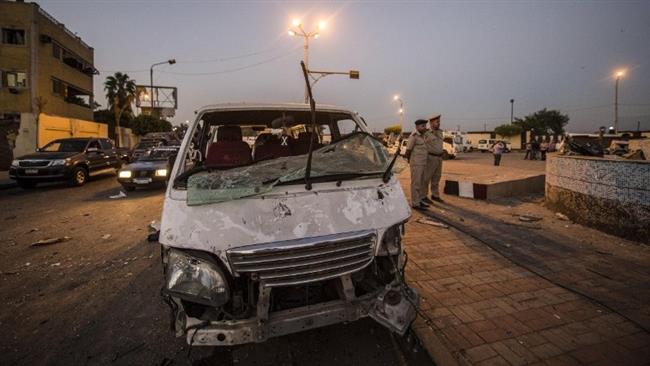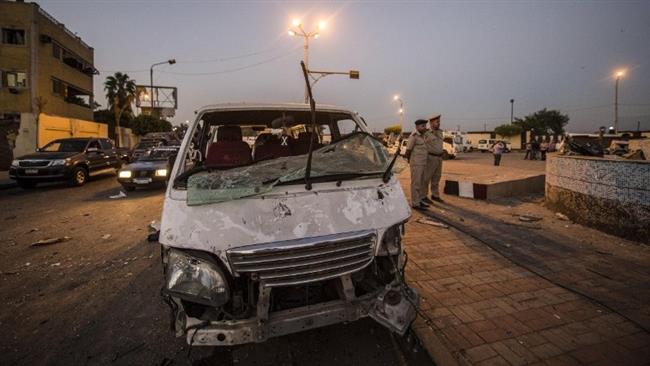 At least two Egyptian police officers lost their lives and 24 others sustained injuries when a roadside bomb explosion ripped through their vehicle in the Nile Delta province of Beheira.
The blast struck a bus as it was carrying policemen to work in the coastal city of Rosetta, located some 160 kilometers (99 miles) north of the capital, Cairo, on Monday morning.
"Two policemen were killed and 24 others were wounded, including two seriously," Egyptian Health Ministry spokesman Hossam Abdel Ghaffar said.
No individual or militant group has claimed responsibility for the act of violence.
Egypt has recently witnessed an uptick in attacks on police and military personnel, especially outside the volatile Sinai Peninsula, where Velayat Sinai militants, previously known as Ansar Bait al-Maqdis, are operating.
On August 20, an explosives-laden car went off close to a state security building in Cairo's densely populated residential neighborhood of Shubra al-Khaima, leaving 29 people, including six policemen, injured.
The development came more than a week after another bomb blast targeted a traffic post close to a courthouse in Cairo's bustling Heliopolis district, wounding four policemen. A colonel and major were among those wounded in the attack.
The Cairo-based Ajnad Misr (Soldiers of Egypt) militant group claimed the attack in its Twitter account.
The militants have already targeted police and staged bomb attacks outside key buildings in Cairo, including the presidential palace and Cairo University.
In June, the group killed Egypt's top state prosecutor, Hisham Barakat, in a car bomb attack.
The group's former leader, Hammam Mohamed Attiyah, who was killed in a gunfight in Cairo in April, had been linked to the Velayat Sinai terrorist group.
Velayat Sinai militants have claimed responsibility for most of the attacks in the Sinai Peninsula. Last November, the group pledged allegiance to the Daesh terrorist group, which is wreaking havoc primarily in Iraq and neighboring Syria.