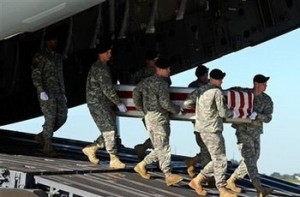 An International Security Assistance Force (ISAF) soldier has been killed in a land mine explosion in Afghanistan.
The foreign convoy hit a land mine when on patrol in Sayed Abad district in Wardak province late Saturday, Shahedullah Shahed, spokesman for Wardak's governor, told a Press TV correspondent on Sunday.
A military vehicle was also damaged in the roadside bomb explosion, Shahed added.
The nationality of the killed soldier was not declared.
Most of the foreign troops deployed in Wradak province are Americans, however, the US military has not commented on the report.
Taliban spokesman, Zabihullah Mujahid, claimed responsibility for the bombing. The militants say at least three foreign soldiers were killed in the incident.
Shahed also noted that militants executed a young Afghan militia who cooperated with the Afghan government in Sayed Abad district on Sunday.