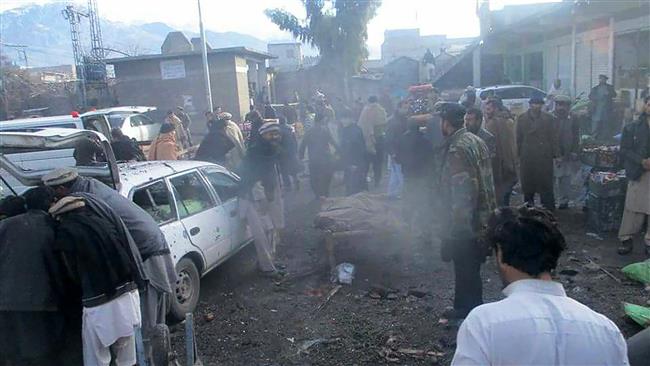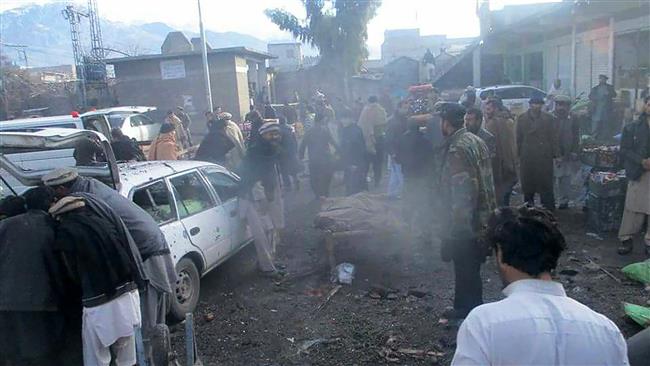 At least ten people have been killed and more than a dozen others have been injured in a roadside bombing that targeted a minivan in a Shia-majority area of Pakistan's northwestern tribal region.
Senior regional official Shahid Ali Khan said on Tuesday that the explosive device planted by militants ripped through the van traveling in Kurram Agency, which borders Afghanistan.
"When the passengers were coming, they detonated the remote-controled bomb," media outlets quoted the official as saying.
A woman and two children were among the victims. At least 13 people were also wounded in the deadly explosion.
Many of the injured were taken to hospital in the nearby town of Parachinar. The Pakistani military reportedly sent a helicopter to evacuate some of the wounded to the key northwestern city of Peshawar.
A spokesman for Jamaat-ur-Ahrar, a faction of the Pakistani Taliban, claimed responsibility for the deadly attack, saying the explosive device had been intended to target Shia Muslims.
Taliban militants have been active around Parachinar in the past and targeted Shia Muslims, who have been the subject of numerous attacks. In March, a bomb blast at a mosque killed more than 20 people in the Shia-majority town.
In January, a bomb planted in a busy vegetable market killed 21 Shias in the same town.
Data from the South Asia Terrorism Portal shows more than 2,600 Shia Muslims have been killed in militant attacks since 2002 across Pakistan. Shia advocacy groups, however, say the figures could be much higher.
Shias make up about one third of Pakistan's population of over 180 million.
Critics blame the Pakistani government and some elements within intelligence services for unwillingness to protect Shia Muslims and moderate Sunnis across the violence-wracked country.
International organizations and rights groups have urged the Pakistani government to take decisive action against the forces involved in the targeted killings.