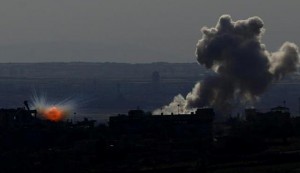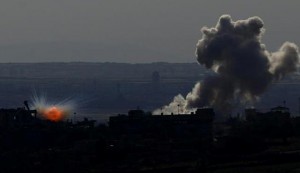 Rockets from Syria have rocked the Israeli-occupied sector of the Golan Heights hours after a rocket from Lebanon has hit the Upper Galilee in the occupied lands of Palestine.
"At least five rockets fired from Syria hit different locations across the Golan Heights," the Israeli army said in a statement on Sunday.
An army spokeswoman told AFP that it was not known who launched the rockets and the Israeli military did not return fire.
She said there were no casualties in the attacks, at around 1:30 am on Sunday, the 48th day of a massive Israeli assault on Gaza.
Last month a rocket from Syria prompted Israeli artillery to shell Syrian army positions.
Some previous incidents have been put down to stray fire from fighting between Syrian army troops and opposition forces, who are fighting on the Syrian-controlled side of the Golan Heights.
Late on Saturday, a rocket fired from Lebanon hit northern Israel. There were no reports of damage or injuries, and nobody claimed responsibility for the launch.
A Lebanese security source said the rocket was fired from Dheira, three kilometers (nearly two miles) from the border with Israel.
The same source noted that Israeli helicopters were seen flying around the border area.
In mid-July, at least nine rockets were fired from Lebanon at Israel, prompting Israel to retaliate with artillery fire.
Lebanese military officials had at the time said they believed the attacks were carried out by a small Palestinian group in an act of solidarity with Gazans.
Israel did not return fire for the Saturday night attack but sent "a strong protest" to the United Nations Interim Force in Lebanon (UNIFIL), which monitors the border between Lebanon and Israel.