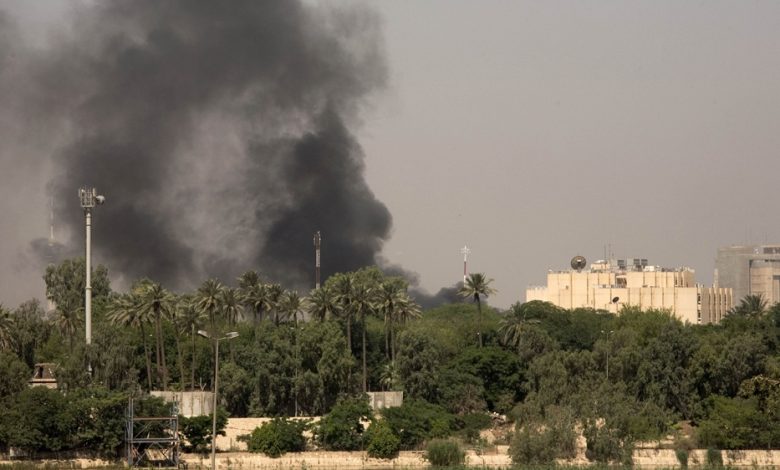 At least two rockets have landed near the US embassy in the heavily fortified Green Zone in central Baghdad, which houses foreign embassies and some of the main Iraqi government institutions.
Iraq's Security Media Cell announced in a statement published on its official Twitter page that the projectiles hit within the perimeter of the Green Zone on Monday evening.
سقوط صاروخين على المنطقة الخضراء، من دون وقوع إصابات، والمتابعة مستمرة من قبل القوات الأمنية، وسنوافيكم بالتفاصيل لاحقاً . — خلية الإعلام الأمني🇮🇶 (@SecMedCell) February 22, 2021
The rockets only caused some material damage, and there was no mention of casualties.
No group has claimed immediate responsibility for the rocket attack yet.
A security source, speaking on condition of anonymity, told AFP that at least one rocket struck the headquarters of Iraq's National Security Service near the US diplomatic mission.
Others crashed into nearby residential districts, including a multi-story parking complex in Baghdad's western neighborhood of al-Harithiya, an unnamed witness said.
The attack comes a day after a volley of Katyusha rockets targeted the al-Balad air base, where a US company has its headquarters, north of Baghdad.
Security sources said at least one local contractor for Sallyport, which maintains Iraqi Air Force F-16 fighter jets at the base, was wounded in the incident.
In another attack last week, the Arabic-language al-Sumaria television network, citing an unnamed police source, reported that an Iraqi security guard had sustained injuries after a roadside bomb exploded near a convoy of trucks carrying logistics belonging to the US-led coalition in Iraq's central province of al-Qadisiyah.
Anti-US sentiments have been running high in Iraq since the assassination of top Iranian anti-terror commander Lieutenant General Qassem Soleimani, the commander of the Quds Force of Iran's Islamic Revolution Guards Corps, and his Iraqi trenchmate Abu Mahdi al-Muhandis, the deputy head of the Popular Mobilization Units, along with their companions in a US assassination drone airstrike authorized by former US president Donald Trump near Baghdad International Airport on January 3 last year.
Iraqi lawmakers approved a bill two days later, demanding the withdrawal of all foreign military forces led by the United States from the country.
Currently, there are approximately 2,500 American troops in Iraq.