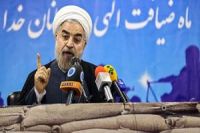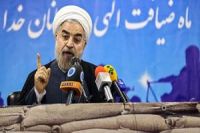 Iran's President-elect Hassan Rohani has scoffed at Zionist regime's saber rattling, saying the Zionist regime is in no position to act on its war threats against Tehran.
Addressing a gathering of war veterans on Tuesday in Tehran, Rohani said when it comes to Iran, the notion of all options being on the table is ridiculous.
He stressed that the enemy is well aware that in case of a military action, Iran will stand up, more forcefully and bolder than its adversaries.
Rohani made the remarks after the Zionist regime's Prime Minister Benjamin Netanyahu repeated war threats against the Islamic Republic on Sunday, and urged world leaders to intensify sanctions against Iran.
The US and Zionist regime have repeatedly threatened to take military action against Iran in order to force the Islamic Republic to halt its uranium enrichment program, which Washington and Zionist regime claim includes a military component.
Iran rejects the allegations, noting that as a committed signatory to the nuclear Non-Proliferation Treaty and a member of the International Atomic Energy Agency (IAEA), it has the right to use nuclear technology for peaceful purposes.
In addition, the IAEA has conducted numerous inspections of Iran's nuclear facilities but has never found any evidence showing that Iran's civilian nuclear program has been diverted to nuclear weapons production.