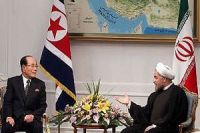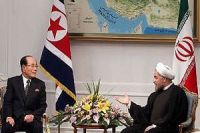 Iran's new President underlined all-out expansion of ties between Tehran and Pyongyang, adding that Iran and North Korea have always had good relations and these relations will be promoted during his presidency, too.
According to IRNA, President Hassan Rohani, in a meeting with North Korean Chairman of the Presidium of the Supreme People's Assembly Kim Yong-nam, referred to long, good, and expanding ties between the two countries and said he is confident that the ties will develop during his presidency.
He also reminded Iran's peaceful use of nuclear energy and said that Tehran is moving totally in the framework of regulations and pressures by the US and the west are not compatible with such regulations.
Rohani stressed Iran believes that the US and the west are always seeking a pretext to confront with those countries, which are not friendly in their view, while all Iranian nuclear centers are under supervision of the IAEA representatives and inspectors.
Kim Yong-nam, for his part, conveyed warm greetings of North Korean leader and people for President Rohani and added that Tehran and Pyongyang are in a common anti-imperialism stance, so in this direction, North Korea has always considered Iran's victory as its own.
He noted that North Korea has always defended Iran's peaceful nuclear activities in all international circles and considers this right as an inalienable right of Iranians and believes that the issue should be settled through dialogue.