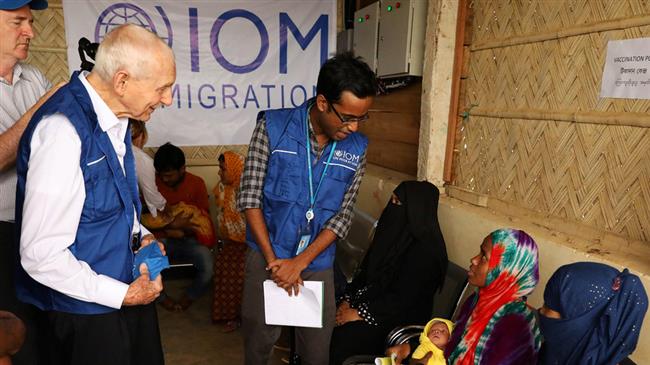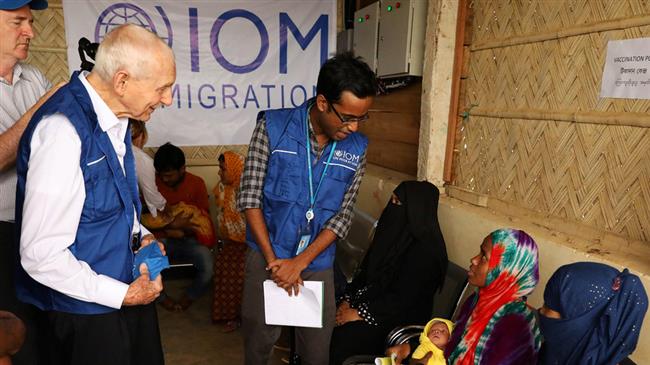 The United Nations' migration chief says the world "must rally" in support of the almost one million Rohingya Muslim refugees who have fled state-sponsored violence in Myanmar and taken refuge in Bangladesh.
William Lacy Swing, the director general of the International Organization for Migration (IOM), said on Tuesday that the refugees, living in makeshift camps in southeast Bangladesh's Cox's Bazar district, were facing a triple threat of extreme weather, funding shortages, and uncertainty about their future.
Swing, who had wrapped up a week-long visit to Myanmar and Bangladesh, said the Muslim refugees were "in danger of becoming the wretched of the earth, homeless, and without a future."
Cox's Bazar, now home to more than 900,000 ethnic Rohingya refugees, is being threatened by heavy landslides as monsoon rains turn many hillsides to mud.
The IOM chief urged the international community to remain focused on the Rohingya crisis, because a "failure to do so would have tragic outcomes" for the minority Muslims, already described by the UN as the world's most persecuted community.
The community, originally based in Myanmar's Rakhine State, was subjected to a campaign of killings, rape, and arson attacks by the military backed and Buddhist mobs in what the UN has described as "a textbook example of ethnic cleansing" before they fled to Bangladesh.
Thousands were killed before they could run away.
The Rohingya, who have lived in Myanmar for generations, are denied citizenship and are branded illegal immigrants from Bangladesh, which likewise denies them citizenship but has been sheltering them on humanitarian grounds.
Their former communities in Myanmar have been razed and Buddhists have been shuttled and settled there in newly-built structures to repopulate the area.