World News
Romanians hold mass rally to demand resignation of government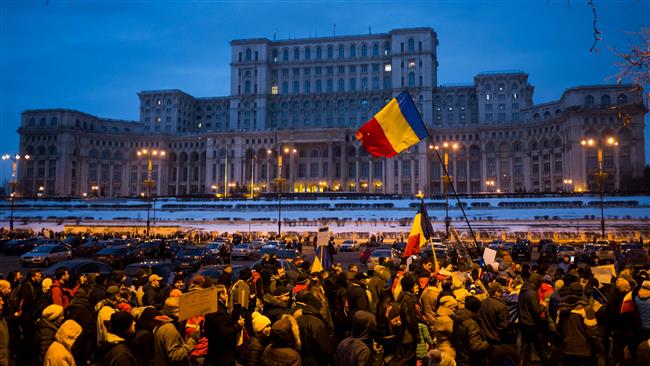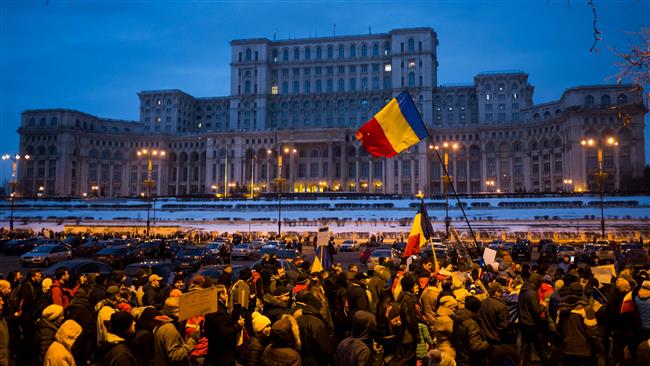 Hundreds of thousands of Romanians have taken to the streets of the capital and elsewhere in the country to show their distrust of the government despite its reversal of a controversial decision.
An estimated 500,000 people were out on the streets of Bucharest, the capital, and other cities across Romania on Sunday to call on the government of Prime Minister Sorin Grindeanu to resign.
Many people had arrived in Bucharest from other Romanian cities following a call on social networks to join the rally. The crowd took to the square in front of the Government Palace, and filled the boulevards around the square while carrying banners and flags.
They were chanting "Thieves," "Resignation," and "We don't surrender, we remain here."
They also held banners reading, "If you are the big tree, we are the small axe sharpened to cut you down, ready to cut you down."
The government of Prime Minister Grindeanu sparked the biggest demonstrations in the country in decades when it approved a decree to decriminalize some corruption offenses. The move, which bypassed the parliament, was seen as mainly affecting corrupt politicians.
Five days after mass rallies started against the decision, the government capitulated, announcing the withdrawal of the decree on Sunday.
Grindeanu asked the justice minister to prepare a draft law and send it to the parliament for debate and approval.
"It's really strange that it took them so long and I think that the people are here because they don't trust [the government] anymore, that this is enough," said a protester. "Even if they do away with the ordinance, people just don't have the trust anymore."
Another protester said, "These are some decisions they took today to cover their tracks about the law they tried to pass last week in the middle of the night."
"It's not enough," said another protester. "We need to see a commitment that the fight against corruption is still on."
The Sunday demonstration in the capital was said to be the biggest rally in Romania in the past 25 years.
The prime minister, however, has insisted that he "will not resign," and that only the parliament is able to force him to step down.