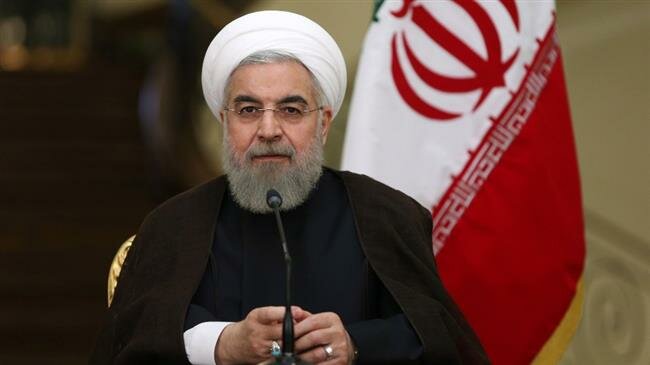 Iranian President Hassan Rouhani today pointed to certain facts on the ground when he detailed the necessary conditions meant to secure a win-win result regarding the 2015 multilateral nuclear deal — known as the Joint Comprehensive Plan of Action (JCPOA) — between Iran and world powers. The facts are significant as they are likely to be affected by Iran's recent announcement to suspend some of its commitments under the JCPOA, exactly one year after the US unilaterally abandoned the international document.
The following is a list of major facts mentioned by the Iranian president on Wednesday as the ambassadors of the countries remaining in the deal — France, Britain, Germany, Russia and China —received a letter penned by him elaborating the suspension of some of Iran's commitments under the accord.
As mentioned by President Rouhani, Iran's leading role in terror fight as well as hosting and managing nearly five million refugees and blocking drugs smuggling to Europe indicate Iran's irrefutable and special role in providing security for European countries.
Although the US and Europe talked about Iran's so-called nuclear threat to global peace and security ahead of and following negotiations on Tehran's nuclear program and the conclusion of the JCPOA, they are well aware that such statements are absurd and politically-motivated in view of the verified peaceful nature of Iran's nuclear activities.
Terrorism, narcotics and refugees constitute a genuine, imminent and grave threat, of which many regional countries have taken advantage to blackmail the Europeans.
The Islamic Republic of Iran has over the past years incurred heavy financial and humanitarian costs without demanding anything in return, preventing the afore-mentioned challenges from undermining Europe's security.
President Rouhani announced in a live speech on Wednesday that Iran was scaling back certain curbs to its nuclear program, announcing steps that would not violate its 2015 deal with world powers.
He said Europe had succeeded in promoting the deal in word, but had fallen short of putting its words into action, especially in the area of economy.
The president further reminded Europe of Iran's crucial role in ensuring security in the region, from the Persian Gulf to the Mediterranean and from the Caspian to the Red Sea. Iran, he added, helped stop the spread of terrorism to Europe and contained the influx of refugees into the continent.
This cooperation will cease to exist if the situation continues as it is, he warned.
The JCPOA was signed before US President Donald Trump took office. Under deal, Iran agreed to limits on its nuclear program in return for the lifting of sanctions.
Washington's European allies opposed Trump's decision to pull out and have been seeking to circumvent the economic impact of new US sanctions. Iran says the Europeans are not doing enough to secure the interests of the Islamic Republic from the deal.