Iran
Middle East
Rouhani in Khuzestan Province to Inspect Rescue Efforts for Flood-Hit Regions
Iranian President Hassan Rouhani arrived in the city of Ahwaz in Southwestern Khuzestan province on Friday morning to visit flood-hit areas and inspect relief operations to the stricken population.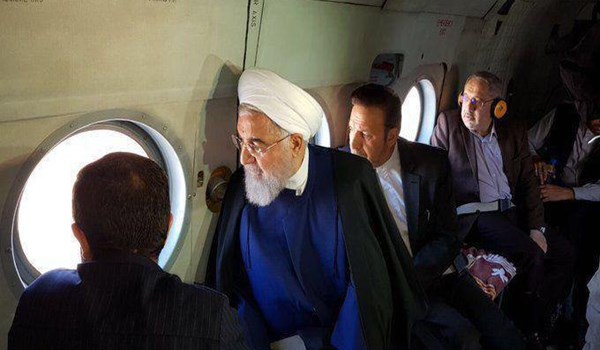 Rouhani is scheduled to visit Karkheh and Dez dams in the one-day visit to inspect the situation.
He is also scheduled to attend the coordination meeting of Disaster Management Taskforce of Khuzestan Province.
Opening modern irrigation systems and trenching projects are among other programs of the President.
Rouhani visited the northern provinces of Golestan and Mazandaran, which have also been hit by earlier this week's heavy rain and flash floods on Wednesday and Thursday.
The death toll from major floods swamping much of Iran has risen to 35, officials said, as authorities sent safety warnings to mobile phones across the country.
Acting Director of the Crisis Management Department of Iran's Forensics Organization Mehrdad Ali Bakhshi made the remarks on Wednesday.
"In the second wave of showers 18 people in Shiraz (Fars province) were killed in floods, 1 in Khuzestan, 1 in Kohgilouyeh and Boyer Ahmad, 3 in Golestan, 2 in Lorestan and 1 in Semnan," Ali Bakhshi said.
He added that in the first round of the recent floods in Iran unfortunately 9 people had also been killed in Mazandaran, Golestan and North Khorassan provinces.
The tragedy started in the four Northern provinces of Mazandaran, Golestan, Semnan and North Khorassan on March 20. Thirty provinces of Iran have been hit by severe weather conditions since then.
Over 56,000 people have been affected in various cities and rural areas in Golestan and Mazandaran as a result of heavy rainfall that hit the two provinces on March 19 and 20.
While the nation was shocked by the casualties and magnitude of destructions in the Northern regions of the country, another round of floods hit the country in the Western and Southwestern provinces last Monday.
The most shocking images were relayed from Shiraz, a very popular tourist destination homing historical monuments from ancient times to the present age, where the Northern opening gate of the city witnessed a tragic pileup of cars swept away by a flash flood.
The Gate of Quran has been built on a dry river bed and ten minutes after the start of sudden torrential rains at around 11:00 am local time last Monday more than 50 cars were washed away to the down of the slope into the city. Hitting trees and other streets signs and curbs the overrun cars piled up one another a kilometer down from the city gate.