Iran
Iraq
Middle East
Rouhani meets with senior Iraqi cleric Grand Ayat. Sistani on final day of Iraq visit
In a historic meeting, Iranian President Hassan Rouhani has held talks with Iraq's top cleric Grand Ayatollah Ali al-Sistani in the holy city of Najaf on the final day of his landmark visit to the neighboring Arab state.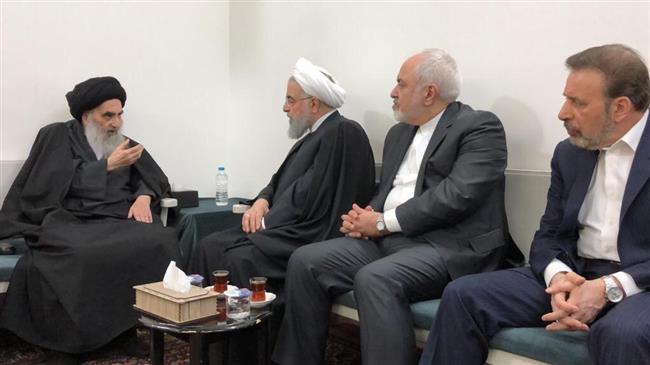 Rouhani sat down with Ayatollah Sistani at his residence on Wednesday after visiting the shrine of Imam Ali (PBUH) – the first Imam of Shia Muslims.
During the meeting, the Iranian president briefed Ayatollah Sistani on his meetings with Iraqi officials as well as agreements about further promotion of ties.
Meanwhile, Ayatollah Sistani welcomed any effort aimed at improving Iraq's ties with its neighbors based on mutual interests, non-interference and respect for national sovereignty.
He also hailed the great sacrifices made by the Iraqis in the fight against Daesh and praised the role of Iraq's friends in defeating the terrorist group.
Ayatollah Sistani said fighting corruption and promoting public services were now the major challenges facing Iraq.
Rouhani is the first Iranian president ever to have met with Ayatollah Sistani.
Foreign Minister Mohammad Javad Zarif and Ambassador to Baghdad Iraj Masjedi were also present at the meeting.
Grand Ayatollah Sistani is known as the spiritual leader of Iraqi Shia Muslims and one of the most senior clerics in Shia Islam.
His fatwas have significantly contributed to shaping Iraq's political structure.
In June 2014 – when the Daesh group unleashed its campaign of terror and destruction in Iraq – Grand Ayatollah Sistani called on his followers to rush to the national army's help in the fight against the terrorist outfit.
The fatwa helped bring together Shia fighters, Sunni tribesmen as well as Christian and Izadi volunteers under the umbrella of the Popular Mobilization Units (PMU), commonly known as Hashd al-Sha'abi, to reverse Daesh's gains and ultimately end the terror group's territorial rule in Iraq in late 2017.
Later on Wednesday, the Iranian president is scheduled to meet with other senior officials and clerics in Najaf.
In a joint statement, Tehran and Baghdad praise Iranian President Hassan Rouhani's historic visit to Iraq as a "turning point" in efforts to strengthen "strategic" relations between the two nations.
Rouhani visited the shrines of Imam Hussein (PBUH), the third Shia Imam, and his half-brother Abbas ibn Ali, in the holy city of Karbala on Tuesday.
Heading a high-ranking delegation, Rouhani began his official Iraq visit on Monday, which featured several meetings and the signing of memorandums of understanding for the expansion of bilateral ties in various fields.
In a joint statement, the two neighboring states hailed Rouhani's Iraq visit as a "turning point" in efforts to strengthen "strategic" cooperation based on non-interference in each other's internal affairs.