Iran
Middle East
North America
Rouhani: New bans expose US lie about seeking dialog with Iran
Iran's President Hassan Rouhani says the fresh American sanctions targeting the country's senior officials prove that Washington is lying about seeking to hold talks with Tehran.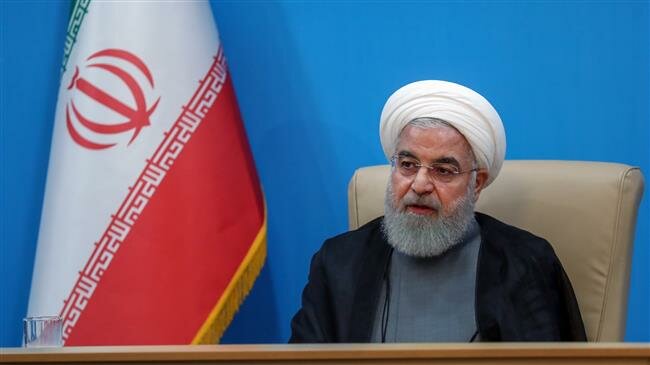 Speaking on Tuesday, Rouhani raised questions about the logic behind US President Donald Trump's executive order imposing bans on Leader of the Islamic Revolution Ayatollah Seyyed Ali Khamenei, his office and eight senior commanders of Iran's Islamic Revolution Guards Corps (IRGC).
Trump has said the new "hard-hitting" sanctions will deny access to "key financial resources and support" for the Leader, his office and those "closely affiliated" with him.
US Treasury Secretary Steven Mnuchin has also said that Iran's Foreign Minister Mohammad Javad Zarif would also face sanctions "later this week."
Rouhani also mocked a US decision to "seize assets of" Ayatollah Khamenei as part the sanctions order, saying the Leader only owns "a Hosseiniyeh (Shia place of worship) and a simple house.
"Iran's Leader is not like those of other countries, who have billions in an account abroad so you can sanction it, seize it or block it," said Rouhani. "To sanction him for what? Not to travel to America?"
He added that the new sanctions — which will also target Zarif — prove the US was "lying" about the offer of talks with Tehran, which the White House has repeatedly put forwards over the past months in parallel with its pressure campaign and stepped-up military moves against the Islamic Republic.
"You (Americans) call for negotiations. If you are telling the truth, why are you simultaneously seeking to sanction our foreign minister, too? It is obvious that you are lying," said the Iranian president.
Rouhani further pointed to Trump's abrupt decision last year to withdraw the US from a 2015 nuclear deal with Iran and said it was Washington, itself, that disrupted a diplomatic process that was already underway between the two sides within the framework of the deal.
"You, yourself, refused to negotiate, disrupted [the talks], reneged on your promises, annulled your own signature and told the world that you have no credulity and 'not to trust us,'" Rouhani added.
Rouhani's remarks came shortly after hawkish US National Security Adviser John Bolton — an ardent Iran hawk which controls Trump's highly belligerent Iran policy — repeated the offer of negotiations and claimed that Washington was still willing to talk to Iran.
"All that Iran needs to do is to walk through that open door."
Bolton: Iran sanctions should not get in way of talksJohn Bolton says the US is still looking forward to negotiate with Iran despite Washington's move in imposing sanctions in the country's top officials.
Bolton also complained about what he called Iran's "deafening" silence on the offer.
Tehran has said it will not engage in negotiations with the US as long as Washington sticks to its economic pressure tactics against the Iranian nation.
Iran's borders are 'a red line'
Elsewhere, Rouhani pointed to the downing by Iran's Islamic Revolution Guards Corps (IRGC) of a US spy drone, which had ignored numerous warnings and intruded into Iranian airspace last week.
He thanked "those who put (Iran's) missile capabilities to use at the Defense Ministry and the IRGC," adding that "people are happy with the country's defense power."
Watch Iran's Khordad 3 air defense shoot down US droneThe video shows the moment an indigenous Khordad 3 air defense system fires a surface-to-air missile at an intruding US spy drone.
Iran, he added, used a domestic radar system and missile to detect and target the trespassing RQ-4 Global Hawk.
"We are not afraid of the US, but we've been exercising strategic patience," said the president.
Rouhani said Iran's borders are "our red line," stressing, "when an aircraft crosses our borders, it is, in fact, crossing our red lines, and we are entitled to defend ourselves."