Iran
Rouhani says Iran stood strong at hard times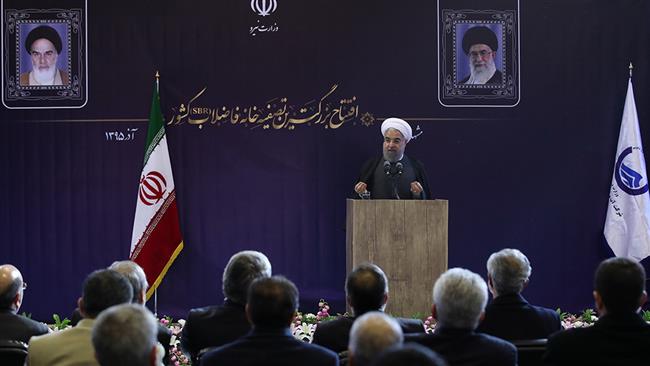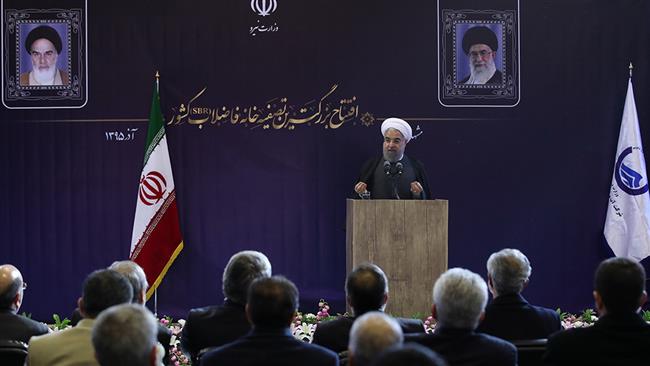 Iran's President Hassan Rouhani says the country has stood strong in the face of severe plunges in international prices of oil over the past two years. 
Rouhani emphasized that Iran despite difficulties had been doing well enough that it never had to tap into its reserve funds to make up for any budget shortfalls "as some key oil producers were eventually forced to".
"All oil-producing countries came across problems [as a result of falling oil prices] and even Saudi Arabia had to withdraw about $100 billion from its reserve funds to support its spending," he told a ceremony to inaugurate a main water supply project in Iran's northeastern city of Mashhad.
"However, Iran for the first time in its history not only withdrew nothing from its emergency reserve funds but also deposited 20 percent of its petrodollars into its National Development Fund over the past two years."
Rouhani said Iran's ability to double its crude oil exports to 2 million barrels per day (mb/d) as well as its successful steps to answer the rising domestic demand for natural gas – specifically during winters – had been among the country's most notable achievements.
"These manifest the strength of the nation and the government of Iran," he said.
Rouhani took office in 2013 when multiple years of sanctions had battered the country's economy. A year later, oil which comprises the lifeblood of the Iranian economy started to plunge from above $100 per barrel and made several baseline touches of below $30 per barrel ever since.
Oil currently stands at around $50 per barrel in what appears to be a result of Wednesday's agreement by the Organization of the Petroleum Exporting Countries (OPEC) to slash collective production. Iran – together with Libya and Nigeria – was exempted from the plan – in what the country's media praised as a result of a successful 'oil diplomacy' pursued by Petroleum Minister Bijan Zanganeh.