Iran
Middle East
North America
Rouhani says US election result shows people fed up with Trump administration
Iranian President Hassan Rouhani says the result of the recent presidential election in the United States shows that not just other countries but also the American people themselves are fed up with the wrong policies of the incumbent US administration.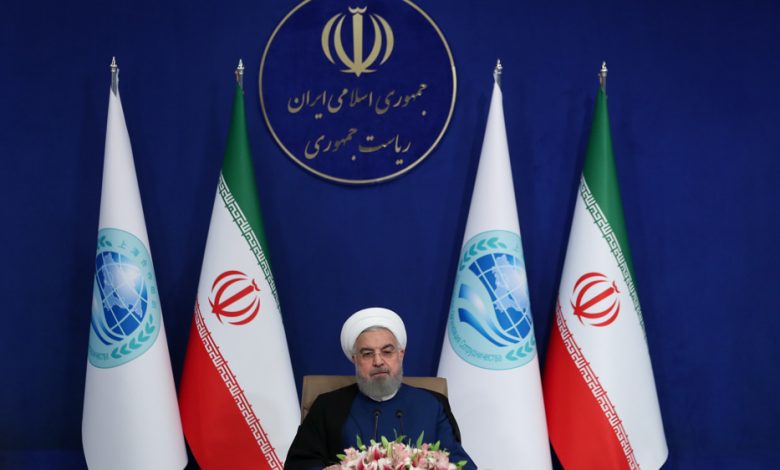 "The US presidential election result shows that a country constantly wielding threats, sanctions, and sticks and taking a bullying tone with other nations must be pursuing a misled foreign policy," President Rouhani told the 20th Meeting of the Council of Heads of State of the Shanghai Cooperation Organization (SCO) via video link on Tuesday.
"Now the field is clear for new US elected leaders to grasp the message of their people and translate this determination for change into their foreign policies and their ties with other countries and states," the Iranian president said.
The Democratic presidential candidate in the US election, Joe Biden, on Saturday passed the 270 electoral vote threshold needed to win the election and oust incumbent Donald Trump.
President Rouhani said the election result "taught another lesson to adventurers, war-mongers, adversaries of nations' rights and violators of undisputed international rights."
The Iranian president said the incoming US administration would have to try to regain the lost credibility of the United States.
"Re-embracing adherence to recognized international laws, regulations, and obligations, honoring other nations' rights and compensating the losses incurred [on nations] are prerequisites to healing the US credibility across the world," he said.
Elsewhere in his address, Rouhani stressed the importance of combating terrorism, extremism, and separatism as a "pivotal principle" in efforts to strengthen cooperation among regional countries and the SCO members.
"Averting the spread of an ideology of violence and extremism, collectively dealing with currents and entities that breed and disseminate extremist thinking in the region, and identifying inception grounds of terrorist groups as well as their sponsors and financial resources are one of the crucial joint missions of the SCO under collective security," he said.
He added that Iran, with years of experience in combating terrorist groups in Syria and Iraq, was ready to help other countries adopt measures to eliminate terrorism and extremism.
He also pointed to Iran's principled policy of strengthening good neighborliness, confidence-building, and dialog with its neighbors in Eurasia, the Persian Gulf, and West and South Asia, saying, "For the Islamic Republic of Iran, sustainable security is viable but through cooperation, participation and peace."
Pointing to a Russian-brokered peace deal between Azerbaijan and Armenia over the Nagorno-Karabakh region, Rouhani expressed hope that the two countries would resolve their dispute through peaceful channels and within the framework of international law.
"To this end, Iran presents a peace plan in order to establish a ceasefire and establish peace, and also conduct intensive negotiations with the conflicting parties and other countries of interest," he said.
Azerbaijan and Armenia agreed to cease fire in the disputed Nagorno-Karabakh region late on Monday. They had been fighting over the territory since September 27.