Iran
Rouhani stresses Iran's prosperity despite western sanctions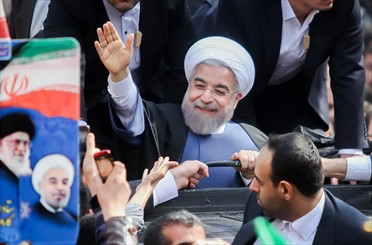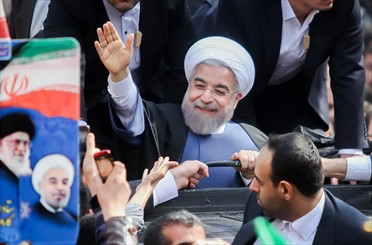 President Hassan Rouhani arrived in Isfahan earlier on Wednesday as part of his provincial tours which has already taken him to different parts of the country.
Ahead of his visit to Isfahan, President Rouhani had pointed to the fundamental role played by people of Isfahan during the Islamic revolution and Imposed War, saying that the government has approved many plans for the development of the province.
The president will hold public meetings with the provincial officials, clerics, veterans, investors and elites in Isfahan and will discuss issues of the province with local officials.
Upon his arrival at the airport, President Rouhani said Isfahan is the hub of agriculture, industry and new technologies as well as the scientific and cultural center of the country, stressing the need to take advantage of affluent potentials existing in the province.
President Rouhani appeared among the people in the province and delivered speech on the fundamental role played by the people of Isfahan in Iran's victory during the Islamic Revolution and Imposed War.
Stating that Iranian youth launched a new satellite despite all the pressures and sanctions, Rouhani said, "we honor our space scientists and scholars in the field of biotechnology and nanotechnology and all the people throughout the world should know that our nation will continue the path of development with unity."
President Rouhani criticized Obama's inability to be committed to his presidential campaign slogan on insurance coverage for all American people, saying that Iran could cover its entire population with health insurance.
Pointing to the sharp declines in health costs in Iran, Rouhani stressed Iran had never -and would never- give in to the pressures and sanctions imposed by Western countries.
President Rouhani praised Isfahan as the center of Islamic culture and civilization. "One of the prime ministers from a key Islamic country told me he had traveled all over the world; however, he admitted that nowhere is like Isfahan and especially Imam square," Rouhani addressed the people of Isfahan.
On the water crisis in Isfahan, Hassan Rouhani pointed to holding a number of supreme council meetings during which integrated watershed management across the country was approved to make foundamental and key decisions about water crisis all over the country.
President Rouhani also announced taking into account the operation and implementation of 28 projects with the credit of $186 million in 2015 and 2016.
"The government will do its best to improve and develop the situation in Isfahan provice," Rouhani concluded.