Iran
Rouhani unveils smuggled Iran artifacts returned from Belgium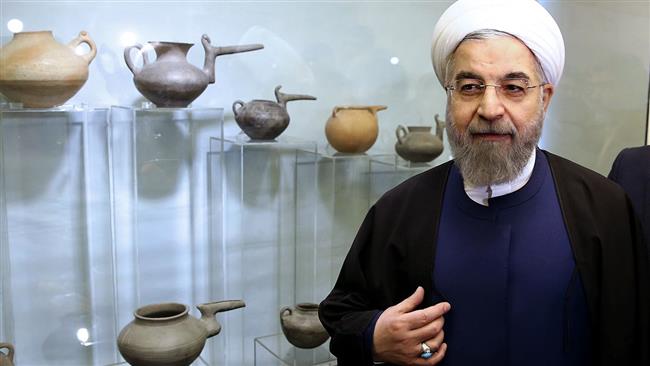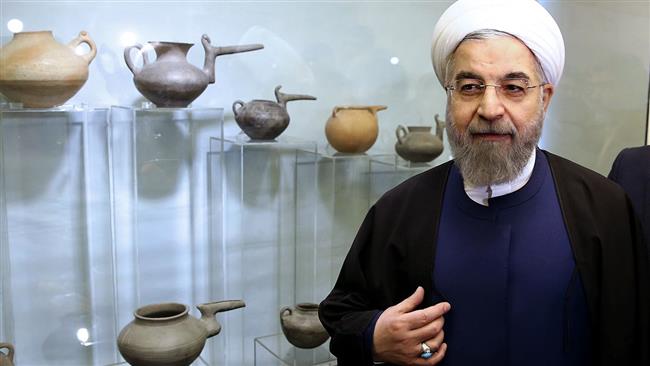 Iran's President Hassan Rouhani has opened an exhibition showcasing hundreds of ancient Iranian artifacts returned to the country from Belgium after decades of legal battles.
The artifacts were displayed at the National Museum of Iran on Saturday in the presence of Rouhani and other senior Iranian officials.
This came after an appeals court in Belgium's eastern city of Liège ruled in December 2014 that the country's authorities restitute 349 smuggled artifacts to Iran.
Praising the efforts made by the Iranian legal team in returning the valuble antiques, Rouhani said the move showed the resolve of the government in "safeguarding the rights of the Iranian nation."
He noted that such cultural exhibitions can help "defuse Iranophobia" in the world.
Massoud Soltanifar, who serves as the vice-president and head of Iran's Cultural Heritage, Handcrafts and Tourism Organization (ICHTO), also said, "returning these properties is a big political and legal victory for Iran."
The ancient artifacts were looted over the past years from a 3000-year-old ancient site near the village of Khorvin, situated 80 kilometers (49 miles) northeast of the Iranian capital, Tehran.
With the help of a Belgian diplomat, Yolande Wolfcarius-Maleki, a French national, who acquired Iranian nationality by marriage in 1965, transferred the artifacts to Belgium 35 years ago.
Following Iran's demand in 1981, a Brussels court ordered the seizure of the pieces and their preservation at the Museum of Brussels University, pending a final verdict. The legal processing for returning the artifacts has lasted 33 years.
Iranian officials have filed several other lawsuits in courts in Britain, France, Turkey, and Pakistan for the return of smuggled artifacts over the past years.