Iran
Middle East
Rouhani warns intl. waterways won't be secure as before if Iran oil exports cut to zero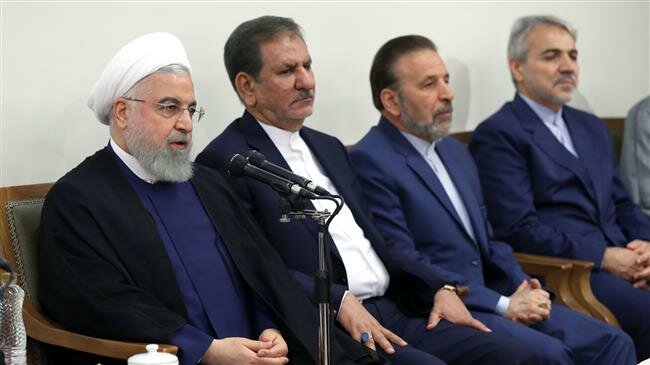 Iranian president Hassan Rouhani has downplayed US threats to completely halt Iran's oil exports, saying international waterways won't be safe like before if the Islamic Republic can't sell its crude.
"World powers know that in case of complete sanction of [Iran's] oil [sales] and bringing down Iran's oil exports to zero, international waterways cannot enjoy the security like before, so [imposing] unilateral pressure against Iran cannot be in their interest and will not guarantee their security in the world and the region," Rouhani made the remarks in a meeting with Leader of the Islamic Revolution Ayatollah Seyyed Ali Khamenei on Wednesday.
He, however, said his administration's policy was to sell petroleum products rather than crude oil, adding, "We will expand existing refineries and create new ones."
He said that Iran was now self-sufficient in oil, gas and gasoline production and was even exporting gasoline to other countries.
Rouhani said that despite the US's "all-out efforts" to block Iran's imports and exports, his administration has managed to keep the market balanced and stable.
The president also praised the Iranian nation's resilience and resistance in the face of pressures and said, "Today, the US is recognized as an isolated violator of treaties on the international scene and for the first time we have condemned the US twice at international legal circles," referring to Tehran's filing of a lawsuit against Washington at the International Court of justice over the US's unilateral sanctions and its lodging a file at the same Hague-based tribunal against a US decision on frozen Iranian assets.
Rouhani condemned the US sanctions, criticizing Washington for waging economic terrorism against the Iranian nation.
Touching on Iran's countermeasures to reduce some of its commitments under the 2015 nuclear deal in reaction to US pressures, Rouhani said Iran's patience was not infinite, stressing that the Islamic Republic cannot remain fully committed while the other side reneges on its obligations.
Since May when the US unilaterally withdrew from the Iran nuclear deal, Tehran has been suspending some of its commitments under the agreement, which was clinched between the country and the P5+1 group of states — the US, the UK, France, Russia, China, plus Germany — in Vienna in 2015.
Tehran has rowed back on its nuclear commitments twice in compliance with articles 26 and 36 of the deal, officially known as the Joint Comprehensive Plan of Action.
As a first step, Iran increased its enriched uranium stockpile to beyond the 300 kilograms set by the JCPOA.
In the second step, Tehran began enriching uranium to purity rates beyond the JCPOA-limit of 3.76 percent.
Iran has warned that it may push forward with 20% uranium enrichment and resume previous activities at the Arak heavy water nuclear reactor in a third nuclear commitment containment.