Iran
North America
Rouhani warns US: Iran will be the mother of all peace while war with the country will be the mother of all wars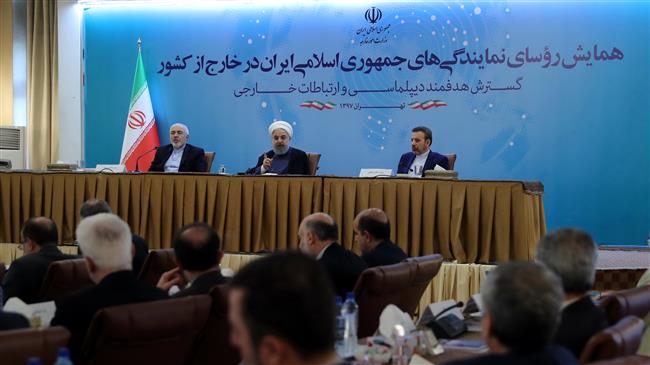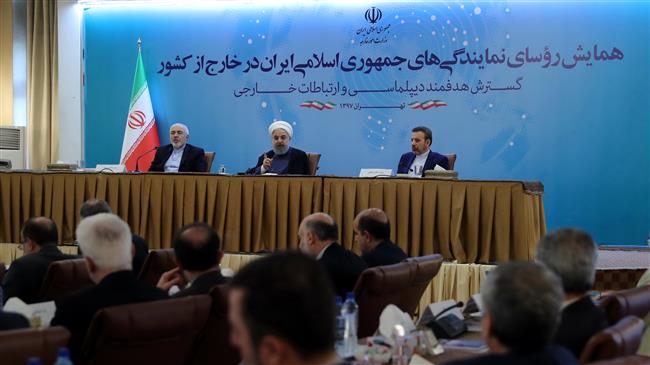 President Hassan Rouhani of Iran says the United States should know that peace with Iran will be the mother of all peace while war with the country will be the mother of all wars.
He made the remarks at a meeting with the heads of Iran's diplomatic missions in world countries in Tehran on Sunday.
"The Americans should learn very well that peace with Iran is the mother of all peace and war with Iran is the mother of all wars," President Rouhani said in a series of sharp remarks aimed at the US.
Under the administration of President Donald Trump, the US has taken an increasingly hostile approach toward Iran.
On May 8, Trump unilaterally withdrew the US from a 2015 multilateral nuclear deal with Iran over the objections of Europe as well as Russia and China — the other parties to the deal, which is officially known as the Joint Comprehensive Plan of Action (JCPOA).
The withdrawal entailed not only the re-imposition of sanctions on Iran but also the so-called secondary sanctions on third countries. Some of those sanctions will take effect after a 90-day wind-down period ending on August 6, and the rest after a 180-day wind-down period ending on November 4.
Most recently, the Trump White House has announced that it seeks to supposedly bring Iran's oil sales down to "zero."
The measures would collectively cause difficulties for Europe to maintain trade ties with Iran. Nevertheless, Europe and Russia and China have decided to explore ways to maintain the JCPOA and trade with Iran.
Iranian officials have said the US measures equal an "economic war" on Iran.
In his Sunday remarks, President Rouhani said threats against Iran would have the opposite effect.
"Threats will further unite us [Iranians]; we will certainly defeat America," he said. "That will carry some costs for us, but the benefits will be greater."
"The US's latest conspiracy [against Iran] has been to attempt to wear the Iranian nation down [and lead it into submission," President Rouhani said. "You must know [however]: the Iranian nation is honorable and will never be servile to anyone."