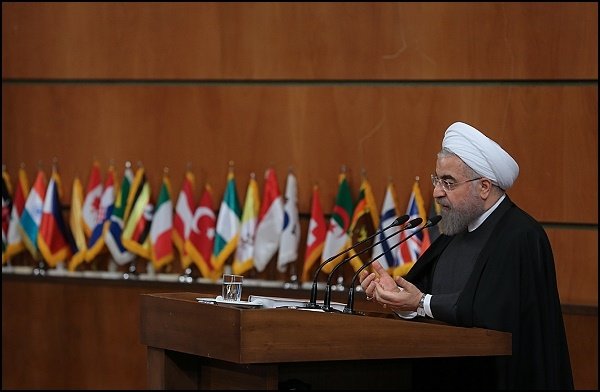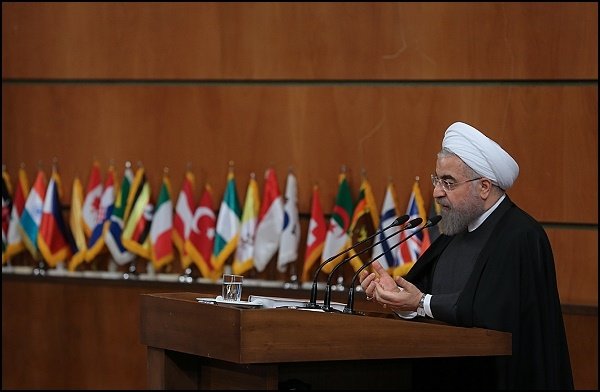 Iranian President Rouhani said Sat. if it were not for Iran's immediate answer to the appeal for help from neighboring countries at the time terrorists were trying to overtake Baghdad and Damascus, the world would now be dealing with a terrorist 'state' instead of a group.
President Rouhani made the remarks in the 2nd 'International Seminar on Environment, Religion, and Culture' that opened at Tehran's Pardisan Park on Saturday, with an aim to promote intercultural dialogue for sustainable development.
"I am truly glad to be speaking of Iran as a country that was a pioneer in calling for a Middle East free of nuclear weapons, Dialogue of Civilizations, interaction between cultures and religions on the subject of the environment, as well as a world free of violence and extremism," President Rouhani addressed representatives of 15 countries present in the seminar.
"The message of Iran for the world has always been 'temperance' and 'moderation', as the only way that could save us all from terrorism," he added.
Rouhani referred to Iran's nuclear agreement, noting that the use of 'logic' and 'dialogue' allowed the Iranian nation to resolve the most important and complex legal, political and technical issue of recent years with the 5+1 group of countries; "the Iranian nation has not attacked any country for 200 years, and when it came under attack itself, the people defended the country with bravery," said Rouhani. "Iran is the land of peaceful coexistence and for centuries, followers of different religions have been living in Iran in peace and fraternity."
The President then touched upon the issue of environment, saying "if humanity fails to preserve its environment, all human lives will be endangered, and as such, protecting the environment is an important human, social, religious and cultural responsibility of all."
Rouhani maintained that the use of fossil fuels, chemical and nuclear weapons, as well as successive wars in the world have dealt the most damage to nature, especially between 17 and 20 centuries.
Noting that religion teaches humanity that it is indebted to nature, President Rouhani added that without religion, culture, faith and human values, one could not make proper plans for a matter as important as environment.
The International Seminar on Environment, Religion, and Culture aims to convey this message to the world that 'dialogue' is the foundation of any kind of common understanding among human beings, societies, cultures and religions.
Speakers and foreign guests from 15 countries which encompass all continents and are of nine religions including Christianity, Catholicism, Sunni Islam, Shia Islam, Jainism, Hinduism, Zoroastrianism, Judaism, and Buddhism, participated in five specialized panels to discuss ideas and exchange views.